10 ways software stretches resources, boosts productivity, and helps cope with skilled worker shortage
Manufacturing jobs are in the spotlight once again. The federal focus on bringing manufacturing jobs back to American workers has stirred up the topic, along with the related issues of off-shoring, trade tariffs, gaps left by retiring Baby Boomers, and automation. It's no simple topic. Multiple complex factors influence the employment landscape in industrial manufacturing.
On the positive side, manufacturers can take steps to help relieve the burden caused by unfilled job positions with training and apprenticeship programs. Engaging in awareness programs which educate prospective employees and replace outdated stereotypes is another tactic. And, most importantly, manufacturers can invest in modern software solutions which will stretch the capacity of the current workforce, appeal to today's Millennial worker, and streamline complex processes.
Her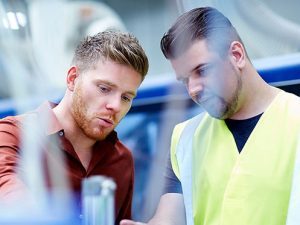 e are
10 ways Infor software solutions can ease the shortage of skilled workers
:


Recruiting millennial workers. Today's graduating students expect software solutions they use in the workplace to be as intuitive and engaging as the consumer-grade solutions they have grown up using. Modern solutions provide the user interface, and self-directed capabilities that this workforce generation demands.



Roles for creative thinkers and visionaries. Manufacturers aren't just looking for mechanical engineers and computer science majors. With trends around digitalization, consumerization, and monetizing data, manufacturers need employees with fresh ideas. End-to-end advanced capabilities and simplified graphical views can help new personnel with liberal arts background easily understand the mechanics and science behind the manufacturing operations. This lets a wider range of people engage in creative branding, product brainstorming, and story-telling as they help build new revenue streams and appeal to new markets.



Guideposts. Employees who are asked to cross-train and fill multiple roles may find themselves assigned a task, but given little training. Often, they can simply rely on the software to guide them through the tasks. Embedded workflows based on prescribed best practices push contextual data to the user for evaluation, automatically escalating alerts for incidents outside of limits, and providing role-based dashboards which track Key Performance Indicators (KPIs) and provide a graphical overview of status. Infor also offers education courses that will help employees get up to speed quickly.



Self-service reporting. Modern reporting tools embedded in Infor ERP solutions feature self-service capabilities, giving the front-line user the ability to create queries, dive deeper into details, and analyze data with the aid of graphics and charts. No longer do all requests for reports and IT support have to go to the IT team and sit in a queue for days. Enabling the user to do more for himself through guided steps frees up the IT team to handle more advanced projects. Infor ERP solutions are highly supportive of users, simplifying decision making, speeding processes, improving productivity.



Condition-based monitoring. Thanks to the use of smart sensors embedded in shop floor machinery, manufacturers can now rely on automated systems and Infor EAM to monitor equipment for certain warning signs or trigger points, such as overheating, vibrating, or fluctuating speed. If machinery starts to behave outside of defined limits, the maintenance department will be alerted. Certain responses can happen automatically, from simply rerouting production to ordering replacement parts and scheduling downtime for maintenance.



Configuration, price, quote. In nearly every industry, customers today expect highly personalized products. Infor CPQ provides a way for customers to choose configuration which fall within production requirements. The solution speeds quoting and eliminates the need for sending every MTO configuration to engineering for custom specs and quotes. This provides a huge time saver for sales and relieves engineering of a major burden.



Collaboration tools. Complex manufacturing and highly configured products escalate the need for internal collaboration tools. Employees can have dialogues with colleagues, contractors, and customers as needed in order to verify versions and, at time, even brainstorm solutions to problems. Because the collaboration tool is integrated to the ERP, critical decisions are documented and tagged for relevant products and processes. This speeds decision making and supports team efforts company-wide.



Tracking and material handling. Smart sensors can be very useful for tracking the location of nearly any object, from vehicle fleets to material handling equipment, like forklifts. This knowledge helps eliminate waste and improve allocation of resources. With the advent of wearable technology, even personnel can be tracked, their activities monitored to verify time and place, all to improve billing accuracy and better understanding of cycles times required for certain tasks.



Cloud deployment. Turning to cloud deployment is a very practical, logical way to overcome skills gaps affecting the IT team. Infor CloudSuites allow the manufacturer to turn over the responsibility for selecting, monitoring and maintaining hardware and servers. The manufacturer no longer has to worry about responsibility for upgrades, back-ups, and continuous security. This frees up the manufacturer's IT team to focus on other projects.



Remote connectivity. Modern solutions deployed by manufacturers often are implemented so they can be accessed through remote mobile devices such as smart phones and tablets. This gives personnel greater flexibility, allowing them to work from anywhere in the plant or even from remote locations. This connectivity makes employees more productive, and the flexibility helps recruit new hires.

These are just some of the ways Infor software can help stretch the capabilities of personnel, boosting productivity. While these are effective short term solutions, manufacturers still must make efforts to educate and recruit the next generation of workers who will embrace modern technologies and help transform the industry.
Let's Connect
Contact us and we'll have a Business Development Representative contact you within 24 business hours