2018 customer-centric marketing planning
Last month we posted the
first
in a series of blogs to address the issues around evolving marketing from being product centric to becoming customer-centric. In this second post on the topic we are going to examine steps to a 2018 marketing plan that has evolution to customer centricity at its core. Ultimately your 2018 marketing planning had better lead to greater customer engagement, and that, in turn, should lead to increased revenues.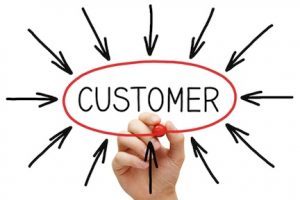 Steps to creating a customer-centric 2018 Marketing Plan
Step 1: Assign leadership on the task to the marketing operations leader
The marketing operations leader is perfectly positioned to lead the annual planning/budgeting process and of course, manage the plan through-out the year. Strategic planning, budgeting and management is an emerging discipline managed by the marketing operations (MO) leader that results in a responsive and actionable marketing plan and budget aligned to company and functional goals and KPIs. It takes the planning and budgeting process in marketing from a series of confusing, siloed and disjointed activities at a single point in time to a continuous process that is defined, managed and aligned through-out the company.
Most importantly, the MO leader is not pre-disposed to be product centric like product marketing, nor channel or event centric like the demand generation group, or content centric like a creative services team. The MO leader can tie the plan, and the associated budget, KPIs and metrics to customer engagement success, and pipeline and revenue of course.
Step 2: Start with the end in mind
Define the outcomes expected from expending that marketing budget in terms of customer engagement, revenue and pipeline created. If your business typically gets 80% of the annual revenues from existing customers and 20% from net new customers in that period, and you are planning 10% revenue growth in 2018 then your end goals might be broken down as follows:


Grow year over year revenues from current customers by 10%




Expand the number of new services purchased by existing customers by 10%

Maintain or increase repeat purchase levels

Increase service renewal rates by 10%

Reinvigorate 25% of customers who did not buy in 2017 to buy in 2018





Acquire n new accounts, who will contribute 20% of our revenues in 2018




25% of these will come from new market entrants or competitive turnover

25% of these will come from a new service introduction

25% of these will come from a regional expansion

25% will come from new channel partners extending our reach





Increase the size of the quarterly sales funnel to 3x revenue requirements to drive business consistency and predictability

Wait, I hear you say, this sounds a lot like the goals in the Sales plan. Correct. It's called marketing and sales alignment on the goals. We both start from here. Marketing planning does not start with brand building goals, or product launch goals, or thought leadership goals. Those come
after
we agree on how we are going to influence Sales results. But at this top level we can also add the associated customer engagement goals:


Increase existing customer engagement with marketing materials and digital properties by 25%

Grow existing database of engaged contacts by 25%

Increase sales channel usage of marketing collateral and tools by 30%

Increase percentage of marketing sourced opportunities to 30%

Increase percentage of marketing sourced pipeline to 30%

Increase percentage of marketing influenced revenue to 90%

So, you may be asking where the customer-centric part of this kicks in…on to step 3.
Step 3: Work backwards from the outcomes, but always placing the customer at the center


For the goal of increasing the current customer base sales:




What levels of engagement does marketing need to drive?

What new content do we need to create?

What new events, and campaigns do we need to drive?

What new products or regions do we need to support and with what?

What new technologies do we need to add to increase loyalty, drive advocacy, or just do ABM campaigns to increase our existing footprint





For the goal of acquiring new customers




What content will I need to attract and capture new leads

What channels will I use to serve up that content – where are the watering holes of these prospects?

How can I leverage advocates to help create new prospects?

How can I improve search results and increase the level of engagement of new visitors to our digital properties and with our content?





Notice that these questions are still largely cross-functional.
Step 4: Drive alignment between marketing functions based on customer engagement
Driving alignment between the marketing functions will be the hardest part of the job for the MO leader. It becomes easier when you shift the conversation from supporting product launches, or attending events, or creating thought leadership content, to a conversation around driving engagement from new and existing contacts in a way that fuels revenue! Customer engagement cuts across the marketing silos. The MO leader will drive agreement on the questions listed in Step 3, and the associated answers. The budget numbers will fall out of that. You will see how much budget is needed to create new content, how much is needed to acquire new leads through which channels, how much is needed to fund events etc. The majority of the debate will not be around the obvious budget includes, or the obvious excludes, but rather around the cutline. And that debate has to cut or approve programs that span marketing functions. Ie it cuts content, channel activities and events all related to specific acquisition or customer nurturing programs.
Step 5: Define the metrics and KPIs that will be used to manage and adjust the plan and budget throughout the year.
If your sales cycle is six months or more, then waiting to decide on the merits of a marketing program on the basis of revenue results can take a long time. As a result, it can be a good idea to also tie KPIs and metrics to the level of customer engagement.
Website visits, email opens and clicks are not measures of customer engagement. They measure activity. Customer engagement means they downloaded a piece of content, they registered and attended a webinar, they listened to a podcast, they requested sales contact, or they came by the booth at an event and talked with you. Data shows that if your prospects and customers engage more with you and your content, your revenue results will also grow. So, to enable an agile approach to your 2018 Marketing Planning, add in customer engagement metrics, in addition of course to pipeline and revenue goals.
Next month, in the continuation of this blog series to address the issues around evolving marketing from being product-centric to becoming customer-centric, we will discuss an ideal marketing organization for maximizing customer engagement.
Written by: Kevin Joyce, CMO and VP Strategic Services,
The Pedowitz Group
Let's Connect
Contact us and we'll have a Business Development Representative contact you within 24 business hours