2021 Infor User Group Conference is a wrap!
The 2021 Annual User Group Conference for English speaking Infor Library and Information Solutions customers took place from April 19-23, 2021 in a virtual format.
As the conference was virtual, the North American V-Users Group executive committee agreed to make it a shared conference between the North American and UK user groups. They also extended the invitation to other English-speaking customers.
This truly widened the reach and benefit of the conference resulting in attendees from 11 countries across the globe as well as Infor presenters from 4 countries.
The conference provided Infor customers with updates on the latest features on the Infor Library and Information Solutions product suite, as well as details on the future plans and direction for these products. There was also a topic session on how libraries have adapted and are addressing the various aspects of the pandemic.
Other conference topics included customer discussion on product enhancements, training workshops, shared customer experiences and some virtual fun and games.
The general feedback from customer attendees was that the conference went quite well and was very informative. Although we missed seeing and spending time in person, it was great to meet other customers from around the globe. We were able to share commonalities as well as discover some regional differences.
All in all, it was a great conference and we look forward to next year and hopefully being able to meet in person again!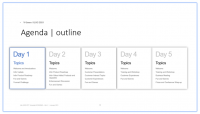 Product
Library and Information Systems
Let's Connect
Contact us and we'll have a Business Development Representative contact you within 24 business hours