3 steps to digital transformation in A&D
As we've been talking about for some time, the digital transformation of manufacturing is underway. No manufacturer is immune from the need to pursue a digital transformation strategy, and no industry is better suited to gain from it than aerospace and defense (A&D).
With b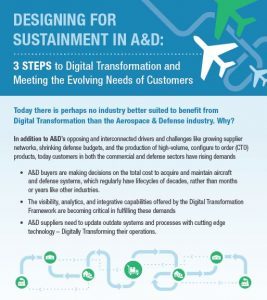 oth commercial and governmental customers demanding more system lifetime support in procurement contracts, the A&D industry must invest in new and better ways to meet these requirements. The use of the best technologies available can drive operational excellence in A&D, both in manufacturing and in after-delivery services and support.
A&D companies that do not prepare for the digital future are going to struggle to remain competitive as the A&D sector adopts a next-generation model for supporting systems over the next 20 years.
A&D companies need to rapidly get on a path to digital transformation t
o meet the growing demands of customers and gain competitive advantage
. Here are 3 steps to begin the journey:


Embrace the importance of digital transformation laterally, vertically, and across the product lifecycle.

Educate and begin investment in IoT to start weaving the digital thread across the value chain.

Elevate data management and predictive analytics capabilities to gain new operational intelligence and insights, and move toward the possibility of new business models.

A&D is an industry with highly sophisticated, well-maintained, and mission-critical equipment. Depending upon the point of view, this makes A&D manufacturers either particularly well positioned to derive value from digital transformation or particularly at risk for disruption from earlier adopters. Those manufacturers that want to remain competitive must prioritize digital transformation and consider the impact it will have on their future business interests.
Infor has the industry-specific solutions to help A&D manufacturers meet their digital transformation goals with a complete suite of solutions for A&D built on knowledge and expertise acquired from more than 25 years of working closely with the world's largest defense, commercial, and maintenance organizations in the industry.
Infor has an industry-specific suite of solutions that help A&D companies optimize operations, maintain contract compliance, and reduce costs.
Infor solutions for A&D
span the entire supply chain from project planning to delivery, and they are built with a microvertical focus to deliver best practices for aerospace, defense, MRO, and service providers, defense electronics, and metal fabrication companies.
For more information on the steps you need to take to achieve the digital transformation, check out this
infographic
and full
report
from LNS Research. For more information on Infor software solutions for A&D, see our
website
.
Let's Connect
Contact us and we'll have a Business Development Representative contact you within 24 business hours