5 ways the Hospitality industry can reinvent traditional CRM
When it comes to customer relationship management, not all industries are created equal – which means a one-size-fits-all approach to CRM solutions can't address the challenges and engagement cycles unique to specific industry segments. The hospitality industry is a case in point. While conventional CRM focuses on managing leads and pipelines throughout an extended sales cycle, hotels have a fundamentally different engagement model — and it involves more than just relabeling Customer Relationship Management as Guest Relationship Management. There's no sales pipeline. The engagement cycle is shorter, less structured, and less predictable. Guests have immediate visibility into pricing and availability across the entire market. And the guest relationship is truly omni-channel spanning web, mobile, native apps, call center, and on-site interactions.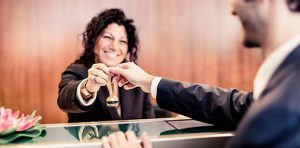 So, how can a hotel brand avoid the shortcomings of conventional CRM and embrace true Guest Relationship Management? The following five suggestions are a great place to start.


Do More than Make It Personal. Personalize It.

Using a guest's name in an email offer may make that offer or interaction personal, but it isn't personalization. Effective guest relationship management requires the 1:1 marketing that takes into account the guest's history, preferences, survey responses, loyalty/rewards activity, the list goes on. Simply targeting different offers or recommendations to different guest profiles isn't enough. Each interaction needs to consider the entire context of each guest's experience, both online and on property.


Think Outside the In-box

To create a rich, relevant, and personalized relationship with guests, hotels need to do more than deliver enticing email offers to the guest's in-box. They need to engage guests across every channel they may use, including email, app activity, on-site interactions, reward/loyalty accounts, and the call center — and those interactions need to be consistent, relevant, and meaningful.


Centralize Your Data

Guest interactions are a complex phenomenon. They can occur almost anywhere, and no single system will house all of the data you need to engage, nurture, and convert prospective guests into paying customers. That's why it's so important to have a single, integrated platform that consolidates all of the needed data to assemble a complete and nuanced picture of each guest.
Today's consumers have high expectations and access to a wider range of choices. When they interact with a brand, they have little patience for inconsistencies resulting from a brand's enterprise silos, each with its own processes, systems and data. Guests see their experience as a more holistic interaction with a single entity – and they expect consistency. Centralized data is critical to providing that consistency.


Keep Your Eyes on the KPIs

In the race to engage guests and get them to book a stay, it can be tempting to rely too much on the response to a specific promotion or campaign. The hospitality industry operates under tight margins and intense competition, so hotels need to balance attractive offers with their own profitability and performance on measures such as REVPAR, average daily rate, and occupancy percentage. To do that, they need the capability to adjust offers and promotions in real time and see how those offers and promotions ultimately affect the bottom line. After all, like any relationship, guest relationships are a two-way street. They need to work for both parties to be successful.


Add Intelligence to the Mix

Succeeding in all of these areas requires the ability to identify patterns, spot emerging trends, and isolate the nuances hiding in raw data. In other words, it calls for advanced tools in capabilities in areas such as data science, predictive analytics, and machine learning. It also means using the broader context of a guest's peer group to determine how best to engage an individual guest.
Ultimately, managing the guest relationship is more than marketing. In hospitality, the guest experience is the product — and the engagement cycle is a critical phase of the ongoing relationship. The more intelligent, personal, and relevant a hotel can be in its interactions with guests, the greater the likelihood of turning a onetime booking into a brand.
Check out this
2 minutes video
to see how you can optimize guest interactions with the power of Infor Interaction Advisor.
Let's Connect
Contact us and we'll have a Business Development Representative contact you within 24 business hours