A Digital Transformation Master Class Workshop with Infor
To give insights into how Infor's digital services team are helping customers manage disruption and seize huge opportunities for growth, our Infor Education Alliance team was delighted to hold an innovation workshop in our London Digital Garage at the end of May. We invited seven students from CASS Business School, an Infor EAP member school, to join us for this master class along with their professor Byung-Gak Son. The workshop was led by Matthew East, Digital Strategist at Infor Hook & Loop.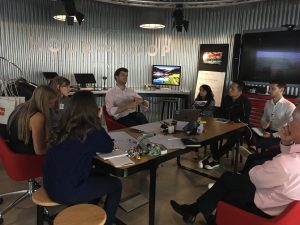 During the hands on workshop, students had the opportunity to collaborate and exchange their knowledge and ideas with Infor and their fellow-students on Digital and what it means to organisations today.


They also got the opportunity to participate in a mini workshop to design their own digital strategy and discuss how to deliver it, as well as exploring the future of digital projects, where the priorities are and where they can see themselves in the future.


As part of the session students learnt how to transform organisations from their supply chain through to their customers. The four-hour workshop focused on:

Identifying different stages and challenges of a business transformation journey

Identifying the roles involved and impacted as a result of a digital transformation journey

Understanding the intricacies of a digital transformation in context of supply chain system

If you are interested in knowing more about digital transformation, we recommend reading: www.infor.com/viewpoints/digital-transformation

About Infor Education Alliance Program


The Infor® Education Alliance Program (EAP) provides member institutions with access to free innovative technologies, hands-on industry learning initiatives, and train-the-trainer programming that can translate into marketable skills and experiences for students. It includes five EAP offerings that can combine to meet the needs of the institution or educational organization. For more information on Infor's Education Alliance Program, please go to infor.com/eap.
Let's Connect
Contact us and we'll have a Business Development Representative contact you within 24 business hours