A growing appetite for intelligent food processing
Over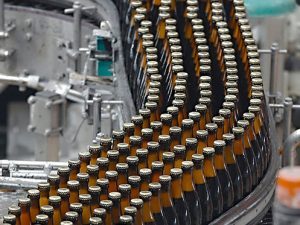 the past year, we've seen a continuing and significant shift towards cloud-based technology.
While the traditional drivers of these solutions include lower upfront costs, easier implementation, and reduced management, for companies with an eye to the future, cloud's inherent scalability has become an even more important attribute.
This new focus is largely due to emerging technologies such as the Internet of Things (IoT) and artificial intelligence (AI) that rely on enormous volumes of information.
Reflecting this trend towards data-driven ecosystems,
Gartner predicts
that intelligent devices will be a key IT consideration for companies in 2017.
"Creating intelligent systems that learn, adapt, and potentially act autonomously rather than simply execute predefined instructions is the primary battleground for technology vendors."

— Gartner, October 2016
This is likely to involve multiple interconnected and converging technologies, including advanced machine learning, AI, and intelligent things.
With
advanced machine learning and AI,
the combination of parallel processing power, sophisticated algorithms, and massive data sets increasingly allows devices to "learn" from previous actions and adjust their future behavior.
For food manufacturers, an exciting opportunity for machine learning is the development of automated production line sorting.
With an ability to "think like humans," digitally connected sorting machines can now determine the best use for specific ingredients—maximizing resources, increasing quality and reducing waste.
Plant cleaning systems are also being revolutionized.
While machine intelligence has traditionally been used in warehousing and maintenance, the
University of Nottingham has developed a system
that uses an array of sensors to ensure equipment is kept clean, without using excessive amounts of water.
Central to this is an AI inspection system that allows the cleaning process to be optimized autonomously, making it more efficient and more effective.
Intelligent things
are another set of technologies expected to have a large impact.
As sensors and transmitters become more affordable, intelligent, rugged, and reliable next year will see an increase in applications that share data across the value chain.
This is particularly relevant to food safety where connectivity will enable new levels of collaboration between producers, transport facilities, and manufacturers.
Companies equipped with IoT technology will be able to confirm food quality as it leaves the factory or warehouse, for example, and fleet managers will have an ability accurately monitor refrigeration systems to ensure the safety of perishable goods in transit.
Are you ready?
While these are tangible examples of technologies that can be employed by your organization, they are a microcosm of all that a digitally transformed business ecosystems can offer.
Many more technologies are in development, and their capabilities are being enhanced every day.
The year ahead will provide enormous opportunity for food manufacturers that have an infrastructure capable of storing and analyzing data, and distributing that intelligence throughout their organizations.
But only with these capabilities in place will companies be ready to excel in an environment where technology is embedded into almost everything.
Read more about a fresh approach to Food & Beverage technology.
Let's Connect
Contact us and we'll have a Business Development Representative contact you within 24 business hours