A new interface for V-smart
The Air interface

As part of the LibDo initiative (see "Realizing a better user experience") the Air interface was improved significantly, with both look & feel (layout) and usability getting attention. The Air interface is now used for V-smart but will -where possible- in future releases also be used for other back-end products, starting with V-insight Preferences and V-link.
The overall goal of LibDo was to create an easier-to-use and more relevant interface for all products.
The new look & feel was introduced with V-smart 5 Service Pack 3, together with a first set of usability changes. Modifications included: a new button style, the introduction of a "burger" for textual access to options, a new styling of non-editable fields, a "nicer" display of error message, the automatic hiding of "confirm only" forms and the selection of a location via a map. Many more changes were related to lists and will be discussed in an upcoming blog entry.
A few of these are described below in somewhat more detail.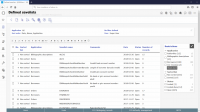 New button style
The main buttons at the top of the page have an improved style. Changes include:
icons are lighter
icons are somewhat smaller
only the icon outline is shown
icons have the primary colour
for those who prefer, a set of "solid" icons are also available.
"Burger" for textual access to options

The icons at the top of the page are now always preceded by a "burger" icon. If one clicks on this icon, a foldout is shown that displays all options (from the top row) on the page, - and for each option, its wording, its icon and its keyboard mnemonic. The options are, of course, selectable from the fold-out.
An additional set of enhancements will make its way into V-smart version 6. Previewed are: an optional auto-hide of less used icons, a new home page, the "ribbon" (discussed below), macros, the styling of "good" and "bad" icons (which will be discussed in an upcoming blog entry), the increased usage of images (e.g. covers), an autocomplete feature on text fields and a new logon page.
The "ribbon"
The "ribbon" is a personalized bar at the bottom of each page, that gives direct access to multiple types of information:
Please see "Realizing a better user experience" for a little more.
Related AFOs are dynamic, logically related AFOs. Typically, these are e.g. the next and previous entry in the AFO tree (e.g. if you are in "checkout", a related AFO could be "check-in").
These can be "any" hyperlink, e.g. to the library website, to the Infor Library & Information Solutions blog, - or any other valid URL.
This shows the users that are active on the system. Those users can be contacted directly. The actual communication is handled via a Skype API (enabling call and chat).
tasks that the user has to do
This is direct (centralized) access to the list of tasks that the user has to act upon.
The goal of the ribbon is to make life easier for staff.
Product
Library and Information Systems
Let's Connect
Contact us and we'll have a Business Development Representative contact you within 24 business hours