A people-person sales guy
Get To Know Your Customers Day comes around every quarter. It's another chance to showcase how our Sales Team members develop meaningful relationships with their customers. This quarter, meet Mitchell Chi, senior director of strategic accounts, Infor Retail and Fashion.By Marta Cleaveland, Infor Blog editor
Mitchell Chi is a people person. He has built a successful career on stripping back to basics and building relationships face-to-face. Chi is a seasoned veteran of the Infor Sales Team, having entered the retail industry 30 years ago. He talks passionately about the industry and the transformations it is undergoing: "The retail industry is under extreme duress, making it a place of extreme excitement."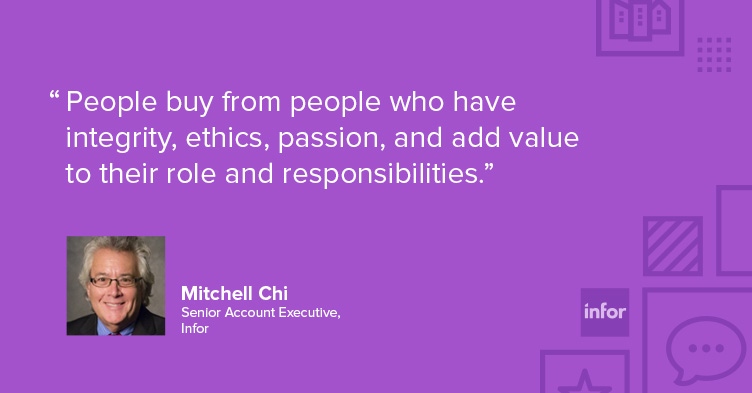 This transformation "is not only a technological one but also a transformation for the customer." The consumer-centric shift, Chi notes, makes it extremely important to develop meaningful relationships with customers.
"Say what you will do and do it! Earn their respect by adding business value, not just selling software or pushing an order form," Chi advises. For him, this means easing off communicating via technology, refraining from email messages, leveraging your personal contacts, building an actionable call plan and remembering: "People buy from people who have integrity, ethics, passion, and add value to their role and responsibilities." How does he emulate this? "Build the Infor brand with every customer employee you meet, from store associates and merchandise managers to the business stakeholders."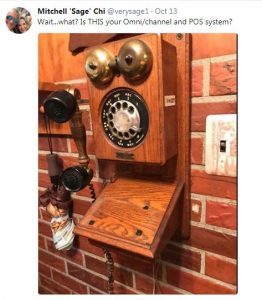 Chi visits customers' retail locations often, meeting store managers and staff for lunch, listening to their business needs, and driving active dialogues about how technology could propel customer satisfaction, loyalty, and repeat sales.
From there (and with permission), Chi then feeds this information to home office executives and stakeholders, showing commitment to the customer and a true understanding of their needs. This honest interest in his customers' business makes Chi a valued partner in their success.
His final tips: "Never, ever sell and run, and be respectful of a person's time and attention."
Follow Chi on Twitter.
Connect with Chi on LinkedIn.
Last quarter on Get To Know Your Customers Day, Tim Brown, chief business innovation officer, shared tactics he employs to develop meaningful relationships with Infor healthcare customers. Read Tim Brown's blog post.About the author: Marta Cleaveland is editor of The Infor Blog, and a writer with the Infor Corporate Communications Team. She has been a reporter and editor at daily newspapers in Minnesota, Idaho, and South Carolina. She has also worked in the tooling & machining industry, state government, public relations, and environmental nonprofits.