A string of pearls inspires Infor/FIT Fashion Design ICONS Award winner
By Marta Cleaveland, Infor Blog editor

"The main inspiration for my contest design was a string of pearls and matching earrings that I used to watch my mother put on for special occasions when I was a child."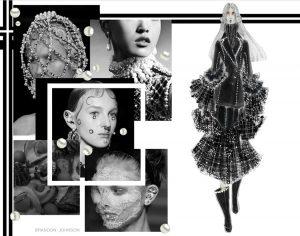 Brandon Johnson, an unassuming 21-year-old design student at the Fashion Institute of Technology (FIT) in New York wowed the judges with that design tribute. He has just been selected this year's Infor/FIT Fashion Design ICONS Award winner, and now the real fun has begun.

Johnson is collaborating with a professional design studio and will see his garment worn by Olivia Perez, founder and editor-in-chief of lifestyle blog Friend of a Friend, on the red carpet at the Harper's Bazaar ICONS event during New York Fashion Week in September.

It's all about design + business

​Infor has teamed up again this year with FIT to create the ultimate design contest exploring the real-world collaboration between fashion designers and business teams. FIT fashion design students submitted their red-carpet-ready creations to a panel of judges, including Marc Scibelli, Infor chief creative officer, and other fashion and retail creatives and business leaders. They selected Johnson as the fashion design winner. Now, the FIT Fashion Business Management students have submitted marketing plans to take his winning look to market. The winner of this Infor/FIT Fashion Business Management Award will be announced after June 22. (More on this winner later.)

Meet our fashion design winner

Brandon Johnson's journey from Gardner, Kansas, to award-winning fashion design student in New York is compelling.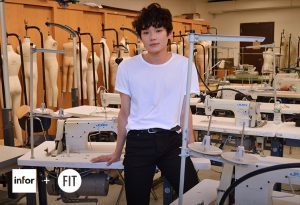 "I think I had considered almost every other profession before I even thought about pursing fashion seriously, and I didn't start considering it a viable option until my senior year in high school.

"One of the first things that really triggered my interest in fashion as a child was the ways I saw people dressed for certain occasions: a pantsuit for the office, a cocktail dress for a night out, jeans on a casual weekend. The connection I noticed between sociology and fashion was what really started to draw me in, and I finally decided to be a part of it.

"Leaving my hometown to come to New York for school was especially difficult because of the relationship I have with my mother. She's my soul mate. Even after being away for almost 3 years, I still get homesick thinking about how far away she is. I wanted to create a small collection that could honor my mother and remind me of her. When I think of my mother, I think of two things: 1) the colors black and white—two of her most-worn colors because she appreciates their simplicity and modesty; and 2) her strand of pearls and matching earrings.

"In my body of work, I rely a lot on color. With this design, I wanted to challenge myself to design without using color as a crutch and focus more on construction details within each garment as well as playing with pattern and texture.

"I want the woman who wears my design to feel comfortable above all else, not just in the sense that the clothing feels comfortable on her body, but also in the sense that she's confident that she looks effortlessly sleek and stylish."

Johnson is working with couturier Paula Varsalona to turn his design into a red-carpet sensation. "I designed the dress with rich, heavy fabrics in mind like leather and cashmere. But the Fashion Week event is in early September, and we don't want Olivia to melt in it, so we're considering lighter fabric options that still retain the design's character and profile."

Johnson has one more year at FIT before graduating, and his career dreams range far from the haute fashion runway.

"I've become more interested in the ways fashion can branch outside of the boundaries we're accustomed to tying it to—like Fashion Week and editorial spreads. I would really like to apply what I've learned and explore the ways fashion can help in other fields, such as science and medicine. Post-graduation, I would love to see how I can help others through innovative clothing design, such as clothes that can release medicines or salves to the skin beneath for people with skin conditions and so on."

Learn more about the Infor/FIT Fashion Design ICONS Award and why we, a business software company, are sponsoring a fashion design contest for college students.


About the author: Marta Cleaveland is editor of The Infor Blog, and a writer with the Infor Corporate Communications Team. She has been a reporter and editor at daily newspapers in Minnesota, Idaho, and South Carolina. She has also worked in the tooling & machining industry, state government, public relations, and environmental nonprofits.
Let's Connect
Contact us and we'll have a Business Development Representative contact you within 24 business hours