After the signature – contract management
A lot of focus goes into managing contracts through the negotiation process but there is also a lot to handle after the signature.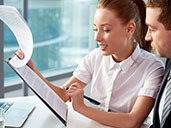 Contracts can be very complex these days and managing key delivery items, obligations, renewals and discounts can have a significant impact on a company's profitability.
One of the easiest items to miss is renewals. It is important to have a plan for tracking renewal dates and making sure the contract renewal process is initiated. Some people use simple systems like placing a reminder on their calendar when the contract expires. This can be effective for small operations with simple contracts, however, what if the person leaves or changes positions? What if there are multiple renewal options like discounts for early renewal or penalties for letting the contract lapse? Does the renewal generate a work requirement or approval process?
And even more questions come to mind; during the contract period are there any deliverables or landmarks that require attention? Are there discounts or bonuses available that require reminders. Are there reports or notifications required? Re-evaluation periods? Price increase opportunities? Penalties?
Now that you are pondering how best to handle these questions let's add another layer to the complexities. How long are the contracts? One, two, three, five maybe even 10 years? How much will your company grow and change during these periods. Will there be additional personnel managing contracts? Different priorities for pricing, renewals, and negotiation?
So what do we do? This is where a good contract management system comes into play. It should have the ability to handle alerts, and deadlines at a minimum. It should support multiple users and teams to allow your organization to change without losing focus on your contracts. It should be able to support approvals, and governance. It should be a well-organized repository for to accommodate research and reporting.
This is where
Infor Contract Lifecycle Management
(CLM) shines. It is an attribute based tool with powerful capabilities to manage approvals, workflows, pricing and governance. Offered through the cloud, the responsive design allows intuitive convenient access from a computer, tablet or phone. Its central repository makes all off your contracts available at any time for research and reporting.
So don't forget about those contracts when the ink dries or they will bite you in your bottom line.
Written by:
Joe Elliott
, Solutions Consultant, Infor
Let's Connect
Contact us and we'll have a Business Development Representative contact you within 24 business hours