Agility for industrial manufacturers and 10 tips to achieve it
Industry experts frequently talk about agility. It's one of today's most popular buzz words. But, for industrial manufacturers or manufacturers of industrial equipment, what does agility really mean?
After all, there aren't the same kind of seasonal pressures that the fashion industry faces, nor the short-lived fads of the consumer packaged goods industry. So, why the hurry? Why all the fuss about agility?
For manufacturers, suppliers, and contractors in the industrial/equipment industries, agility is all about anticipating and adapting to changes in the market landscape. It means being in the right place at the right time with the right offering of products, tools, materials, and equipment.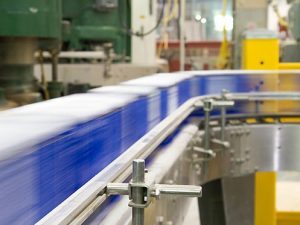 Anticipating need
Agility means projecting where there will be need and responding with the marketable goods, insights, and services to help it happen. It means answering
immediate
needs of customers and potential customers, whether they are repairing crumbling bridges, building new roads, modernizing power plants, expanding the supply chain infrastructure, or equipping new factories closer to their markets. And these customers can be anywhere. That is the exciting part about today's ability to manage a global supply chain. Manufacturers can now confidently serve customers who are next door or in an emerging nation in another hemisphere. It's all about the network.
Today, market opportunities arise quickly. Funding, plans, and approvals for major industrial and construction projects used to take years, giving the various suppliers plenty of time to respond to RFPs with carefully plotted bids. Like most aspects of traditional business, those days are largely gone.
Beating the competition

Real estate deals, mergers, acquisitions, crowd-funded start-ups, and venture-capital-backed enterprises unfold rapidly. Reaction must be swift. Thanks to global competition (the downside of a global economy), there is likely to be some pop-up competitor that can meet the newest demand in very short order. To compete, a manufacturer must be agile in its ability to recognize the opportunity, respond with a tailored proposal, and provide necessary documentation or prototypes. The supply chain and integrated network must be in place—or on standby ready to be enlisted into action.
All customers, even industrial customers who are buying mammoth-sized generators, towering cranes, or highly complex material handling systems, have been indoctrinated to the next-day delivery culture. They bring those subconscious expectations for "freakishly fast" turn-around to their work environment.
10 ways IT solutions come to the rescue
Here are some ways modern IT solutions help industrial manufacturers and suppliers be ready to step up to the agility challenge.


Current releases. Keeping IT solutions current is one of the most effective ways to address fast-changing market needs. Aberdeen reports in "Top Manufacturers Stay on Top of ERP Updates" that leading manufacturers are 59% more likely to be using the latest version of their ERP.

Cloud deployment. With a cloud deployment, your ERP is "always modern" without you having to worry about upgrades. The solution is continually updated to offer best-in-class features.

Last-mile functionality. Infor offers ERP solutions with industry-specific features already built in, not bolted on. This means you can address the details of your vertical industry, from metal fabrication to plastics molding, from Day 1.

End-to-end visibility. To make well-informed, timely decisions, you need a complete view of your operations and value chain, including all of your departments, contractors, and partners. You need one solutions that integrates the full spectrum of solutions, from your ERP to supply chain management or aftermarket service.

Highly-engaged workforce. Usability helps empower your workforce to be fully engaged and attentive to unfolding issues and current customer needs.

Advanced business intelligence. Data analytics helps you understand margins, profitability, and key performance indicators (KPIs), so you make strategic decisions about the types of products and accounts that are worth pursuing.

Predictive forecasting. To anticipate future trends, identify opportunities, and prepare with necessary resources, predictive capabilities will give you the insight you need. Obtaining a glimpse of the future helps you set your sights on new goals and plan accordingly.

Just in time. Modern ERP solutions with integrated inventory and warehouse functionality allow manufacturers to maintain appropriate stocking levels of resources, without over extending capital investments.

Collaboration. It's more important than ever for manufacturers to have an integrated business solution to help communicate and collaborate with customers, colleagues and partners in real time, while tracking decisions, protecting intellectual property, and capturing necessary documentation.

Online portals and e-commerce channels. These tools speed interaction with customers, allowing them to enter and look up much of their own data, such as repeat orders, inventory availability, or warranty status. Portals can also be used to let customers or partners enter warranty claims, service requests, or exchange knowledge with other users.

These 10 IT tips will help the industrial manufacturer or supplier anticipate and seize opportunities in today's global economy. Agility is the key. And, this is the one business fact that won't be changing soon.
To learn more about ways cloud deployment helps you stay always modern and on top of best-in-class functionality, download
Top Manufacturers Stay on Top of ERP Updates
from the Aberdeen Group.
Learn more about Infor solutions for manufacturing.
Let's Connect
Contact us and we'll have a Business Development Representative contact you within 24 business hours