Albuquerque Public Schools recognized for financial excellence
Albuquerque Public Schools is being honored with a 2016 Infor Excellence in Action Award for Financial Excellence. The school district accepted the award onstage during General Session at
Inforum 2016
, Infor's biggest user conference of the year in New York City.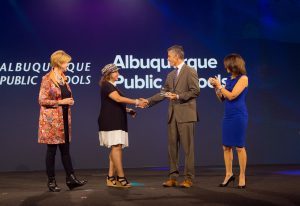 The
2016 Infor Excellence in Action Awards
recognize organizations that drive innovation and showcase exceptional results in business performance after implementing Infor applications and services.
Albuquerque Public Schools
wanted to manage its budget cash flow in-house by embedding all pertinent details into its technology platform to help better track the life of projects through enhanced planning and reporting. Working with Infor, the Capital Fiscal Program Services team, along with the Business Systems and Capital Master Plan offices, were able to take cash-flow reporting from months and weeks of manual tracking, on hundreds of comprehensive spreadsheets, to the click of a button, with the use of
Infor Lawson applications
.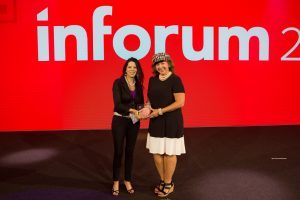 The financial and performance impact of this project has already proven significant. The organization is now able to differentiate capital master plan strategies, track departmental budgets and economic reductions, defer projects for future election planning needs, and accelerate or decelerate projects as needed based on district priorities.
The school district also achieved great success in creating, managing, leveraging, and implementing its own cash-flow legacy, including the ability to track $3.3 billion in projects daily, reduce budget planning for the new fiscal year from 2 months to 3 days, reduce errors by eliminating manual processes, enhance employee training, and create a more systematic approach to doing business.
The 2016 Infor Excellence in Action Awards identify customers that have displayed excellence in various business operations: Financial Excellence, Operational Excellence, Employee Excellence, Customer Excellence, Innovation, and Transformation. A panel of Infor solution and industry experts evaluated each applicant's nomination. The 2016 winners were chosen based on scope and depth of performance improvement, quantifiable business benefits, customer focus and satisfaction, and technology use and innovation.
"Infor's Industry-specific software, built with last-mile functionality, is used daily by organizations in more than 200 countries, and this award program gives us a formal platform to honor the outstanding business achievements our customers have realized through innovative use of Infor applications," said Infor President Stephan Scholl.
Let's Connect
Contact us and we'll have a Business Development Representative contact you within 24 business hours