V-insight is ideal for analyzing customer behaviour and allows you to combine all kinds of data: data from the customer database, from the circulation system, from the website (Iguana), etc. The product gives insight into the customer base and customer behaviour. Moreover, you have the option of doing a drilldown to a record level: this means that you not only gain insight into the trends, but also into the customers involved. In this way, V-insight combines (1) fast and dynamic analysis with (2) direct export to Excel (e.g. for MailMerge, direct marketing). The end result is that it allows you to perform all kinds of segmentation and retention analyses.

Examples of questions
V-insight provides answers to questions such as:
how many / which customers borrow DVDs?
how many/which customers who borrow DVDs are "heavy users"?
how many / which customers borrow at location A, but are registered at location B?
how many / which customers borrow materials about which subjects?
etc.
All this can be combined with customer data such as gender, age, place of residence, district, zip code, (borrower) category, etc.
Potential dropouts
A very useful application of V-insight is the analyzes that provide insight into potential "dropouts": customers who may be about to end their membership. With just a few mouse clicks you can track down such potential dropouts.
V-insight allows you to analyze customer behavior and use of the library's services. This gives you insight into the use of your collection and your website, so that you can monitor your services and adjust them if necessary. Libraries use V-insight for monitoring various parts of the system, such as customer data, loan data, website usage, etc. The introduction of a new subscription structure can now be determined on the basis of usage data that has been analyzed with V-insight, and the success of the new structure can be continuously monitored there (analysis of the results of the campaign).
Broadly speaking, with V-insight you can gain insight into data about customers, circulation behaviour (the behaviour of customers in circulation), loans and renewals, website use (Iguana), and others - and combinations of these. We give some examples below of the kinds of data you can analyze with V-insight, but in addition to the examples listed, there are an almost infinite number of types of analysis that can be performed. (We have obvious segmentation of the customer base through analysis such as "how many customers do we have who have borrowed more than 100 materials in 2020?", "how many male customers do we have who do not live in Amsterdam?", "which customers borrow DVDs?", etc.)
What could such an analysis look like?
You would select 14, 15, 16, 17, and 18 year olds and the last month they borrowed. The chart therefore would show "active" customers (those who have borrowed in the last few months), but also customers who are potential dropouts (those whose last loan date is older than e.g. four months). Based on this data, the library can carry out marketing activities towards these potential dropouts. This is possible because you can perform a "drilldown" whereby you can list the relevant customers: so you not only have access to the numbers, but also to the customers involved.
Heavy users
A traditional analysis of loan transactions is: how many loans are made per material type and per borrower category (e.g. how many DVDs are loaned to adults)? Such a statistic shows, for example, that 7,000 DVDs have been loaned to adults. For further analysis, however, it may be useful to know how many customers were involved (in theory this could be 1 customer who loaned 7,000 DVDs, or 7,000 customers who loaned 1 DVD each). V-insight also offers "Loan behaviour" as a cube, with which you can gain insight into exactly this type of data.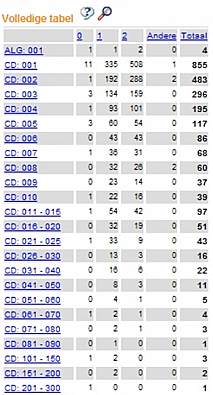 This table shows how many customers have borrowed 1 CD (in this example 855), how many have borrowed 2 CDs (483), how many 3 (296), etc. You can also see here that there are 97 customers who have borrowed 11-15 CDs, that there is 1 customer who has borrowed between 201 and 300 CDs, etc. That way you can make very precise analyzes that can offer you completely new insights about your customers. (For clarity: here too you can perform a drilldown that shows you which customers are involved.)
Comparable analysis are, for example, how many customers who are members at branch A also borrow at other branches and how much do they borrow there?
In summary: The ability to perform very specific analysis allows you to get a lot of information from the systems to develop custom services (e.g. new subscription types) and monitor the success of these services after their introduction.
MOSAIC
Finally, V-insight supports MOSAIC. This approach is provided by a company called Experian. In their words: "How does Mosaic work? Mosaic layers comprehensive information about every household on top of your existing data, giving you unprecedented insights into who your customers are, how they operate, and how best to reach them. Next-level segmentation brings your customers to life" (van https://www.experian.com.au/mosaic). A simple example: MOSAIC divides all households into categories that say something about education, income, etc. and links these to geographical data (example: "a lot of students and households with a relatively low income live in the North district"). Now suppose you want to market the latest type of Ferrari; then of course it makes no sense to send a brochure (random example) to people who cannot afford such an expensive car. MOSAIC then offers insight into where a relatively large number of potential buyers live (in our example: we do not have to send the brochure to the North district and by doing that, we save a lot on costs).
Hereafter we include some examples of customers classified according to the MOSAIC system.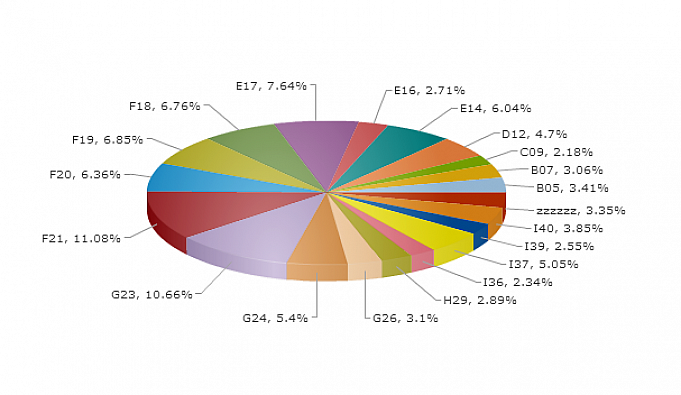 Customers per Mosaic code as pie chart.
The segments (such as E16) refer to MOSAIC groups and types. "E", e.g., stands for a MOSAIC name called "Family Fringes", which is described as "Middle-aged traditional families living on large outersuburban plots, with comfortable incomes and long commutes." "E16", e.g., is a subcategory of that called "Hardware & Acreage", which is described as "Working in trades, middle-aged families owning acreages of land with large properties just outside the metro fringe".
Customers per Mosaic code as bar chart.
Product
Library and Information Systems
Let's Connect
Contact us and we'll have a Business Development Representative contact you within 24 business hours