Ask Sven 'How if I can setup F4 browse functionality with IES search?'
Ask the Education experts.
Hi Sven,

I saw your webinar about 'Navigating the Infor M3 H5 user interface with Infor Enterprise Search and ad hoc reporting' from June 14th. View webinar >

Can you please tell me how if I can setup F4 browse functionality with IES search described (57:21 time-frame) of the mentioned presentation in M3 BE 13.2?

If yes, can you please tell me how? I cannot find a way to connect CMS010 with MNS180 used for the standard browse definition. When I do define this browse category in CMS010 with "Used by program" CMS990-Search browser, I receive following error in CMS010 CTRL+23 => CRS022: "Program name CCMS990 is invalid".

Thank you very much,

Jarda
Hi Jarda,
The enterprise search is built in. Make sure you are on version 13.3 or higher. I think this may be the reason for the error if you are on version 13.2. MNS180 is completely out of the loop in this context. Not relevant (anymore).
Step 1: CMS010. Create an information browser category, but point to CMS990 instead of CMS100:
Add related tables and build views as per normal. Be aware of one-to-many relationships, such as one customer (OCUSMA) that can have several addresses (OCUSAD). Because you work with OCUSMA, you can only show one address in the returned browse (step 3). The safest bet is not to link any other tables unless it is one-to-one.
Step 2: connect this category to a program in MNS175 (you may have to use mforms://mns175).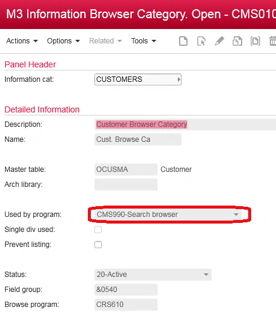 In this case, linking it to OIS100/A, to browse on the customer field when entering a new customer order.
Step 3: run OIS100 and use F4 (browse) on the customer field. It should show the columns you selected in CMS010 (step 1).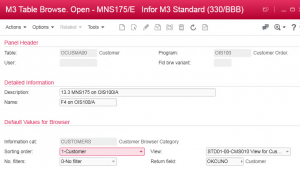 Be aware of the limitations of the database, especially in one-to-many relationships. You can only show one address for each customer (in case you have several addresses in OCUSAD).
Apart from that, you can also use the normal syntax to isolate data. Example: CSCD:us where you only look at country (CSCD) the United States. The database column (CSCD) must be in upper case.
Limitation at this point in time: this browse option will only work on OCUSMA, MITMAS and CIDVEN, but I am sure that in the future, product development will enable more tables for this philosophy.
Kind regards, Sven De Langhe
About Sven

Sven De Langhe is one of Infor's most highly regarded instructors. He is a certified, experienced, Principal Learning Consultant with expertise in Infor M3 supply chain execution and order fulfillment suite of products.
Filed Under
Education & Transformation Services
Let's Connect
Contact us and we'll have a Business Development Representative contact you within 24 business hours