Augmented reality and virtual reality hold promise for dealers short on tech talent
The first in a three-part series examining how technology can support the dealer workforce.

With a perennial shortage of talent to repair heavy road, construction and agriculture equipment, dealers face lost revenues and profit. The impact is staggering. The U.S. heavy equipment distribution industry loses at least $2.4 billion each year due to dealers' inability to find and retain technically skilled workers, according to a recent report from the Associated Equipment Distributors.

Augmented Reality (AR) and Virtual Reality (VR) are two technologies that offer hope for dealers who want to make existing technicians more efficient and effective. VR immerses users in a computer-generated simulation. AR is different in that it layers computer-generated enhancements atop an existing reality to make it more meaningful. Here's how AR and VR might work to help heavy equipment technicians do their work faster, and more effectively.
VR allows techs to learn by doing, without risk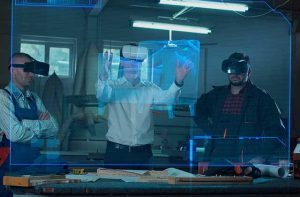 Learning on the job is most effective, but mistakes can be costly. In a virtual world, technicians get experience without the negative consequence of disgruntled customers or time-consuming trips back to the service bay. Bosch, a global supplier of technology and services, headquartered in Gerlingen, Germany, has been using virtual reality to train technicians in the US on gasoline direct-injection technology. According to an article in Modern Tire Dealer, technicians use virtual reality goggles to experience a virtual car entering a virtual shop with a complaint. Participants examined different components and diagnosed the problem. In the two-hour training technicians were awarded points based on time and following proper procedure. They competed as they moved through the repair process identifying faults, selecting parts and completing the repair.

Virtual reality has the potential to cut training cost and time down dramatically. A headset, controller and computer are the basic components needed, making it feasible to host training at your location. As usage expands, pricing for the technology is expected to fall.

Reducing risk from accidents is another benefit of VR training. Virtual reality can give workers an opportunity to experience an unlimited number of potentially dangerous situations — without ever leaving the safety of a dealership office. Virtual reality is already being used to train equipment operators on cranes and aerial work platforms, as well to complete other dangerous construction tasks. DTE Energy is using virtual reality to train workers to safely repair downed power lines.
AR provides real-time information
Automation World recently reported that within three years Caterpillar will be using augmented reality and virtual reality for sales, operations and service applications. Caterpillar already has some use cases. "The company has already created a tractor in a virtual reality app that includes 6,000 part numbers. A salesperson could use an iPhone or iPad to hover over an icon on a specifications sheet to have a virtual rendering of the product pop-up as a visual. Or, out on the job site, you could do a simulation of digging trenches to see if it would violate any requirements for highway control," says the Automation World article.

Augmented Reality could provide technicians with informational overlays to improve their understanding of the task at hand. Instead of referring to a diagram in a manual, a technician might see a virtual model which guides him through the task while keeping his hands free to work. A display on AR glasses could be used to guide technicians through step-by-step diagnostics and repairs, improving the consistency and speed of repairs.

In a field study at Bosch Car Service workshops, Bosch analyzed the benefits of using Augmented Reality applications in everyday workshop life. The result: Using Augmented Reality applications, time savings of 15 percent in average per step taken are possible even on common vehicles and less sophisticated repair tasks such as removing specific components.

With the help of See-What-I-See (SWIS) glasses, your most experienced technicians will be able to diagnose equipment problems from a distance. Working from a central location, they will see exactly what the field service technician sees from their augmented glasses. In this way, experience will be transported in the most efficient way possible, to wherever it is needed. No more sending a second, more experienced technician out to the field to solve a problem.

Driven by the technician shortage, AR and VR tools can't come soon enough for the heavy equipment industry. Some dealers are already applying the technology and seeing benefits. It's time to start envisioning how you can effectively use AR and VR to transform your service operation to make the most of the technicians you have on staff.


Filed Under
Industry
Equipment
Equipment Dealers Rental & Service
Let's Connect
Contact us and we'll have a Business Development Representative contact you within 24 business hours