Benefits of the Single-Instrument Assessment Approach
What if I told you that the same assessment could be used to predict success across a multitude of jobs? And that you could administer the same set of questions to a front-line foodservice applicant, an applicant to a sales representative position, or a potential retail department manager and expect to improve your hiring or promotion effectiveness? That a jack-of-all trades assessment doesn't have to be a master of none?


Infor Talent Science is built around this innovative way of thinking about behaviors that define our work style. To be fair, it is not our assessment itself that is predicting job success. Rather, the assessment is merely used to measure a person's behavioral preferences. This represents a departure from more traditional approaches in which an assessment is actually a combination of two different components: 1) the set of questions or prompts presented to a person and 2) the scoring key which specifies the correct response to these questions. Under this more traditional model, a single assessment could not be used for multiple jobs unless those jobs required the same attributes to be successful.


The Infor Talent Science assessment has been designed to holistically measure people on a wide array of cognitive, behavioral, and cultural preferences that have a history of demonstrated relevance to work-related outcomes. In the Infor Talent Science system, the 'scoring key' is specified by a Custom Performance Profile. This Custom Performance Profile is created using a patented process and acts as a specific benchmark unique to a given job within a given company.


What are the benefits of separating the question set from the scoring key? The benefits can be summarized as 1) rigorous testing and research on the assessment and 2) the opportunity to compare a person's responses against multiple positions. To elaborate:


A consistent assessment allows for more in-depth research to ensure it is doing what it was designed to do. In any situation in which an assessment is being used to help select individuals for a job, the paramount goal of the assessment process is to predict success on the job as accurately as possible—something known as criterion-related validity. It is a known truism amongst assessment experts that reliability (that is, consistency of measurement) is a ceiling for validity. In other words, an assessment's predictive power is only as good as its consistency. By utilizing the same assessment for millions of job applicants year-over-year, Infor Talent Science is able to measure not just the reliability of measurement within the assessment itself—something that should be considered table stakes for any pre-hire instrument—but also across time. Through such test-retest reliability studies, we have gained insights into the longevity of the assessment results to better enable us to advise customers in its use. Furthermore, by monitoring reliability, we can maximize it, and therefore maximize the opportunity for our customers to best predict job success.


In addition to measuring and monitoring reliability, the consistent use of a single assessment allows Infor Talent Science to research other critical topics that would likely be missed for an assessment designed for one-time or single-job use. Examples of such topics that we have investigated in the past few years include mobile equivalence (is the assessment experience the same on mobile vs. desktop?), readability, adverse impact, and even the wording of the instructions. These studies have enabled us to ensure that the assessment is as effective as possible and treats all applicants fairly, a concern that we share with all of our customers.


Beyond being able to study and monitor the quality of the assessment itself, the single-instrument approach provides a valuable opportunity to maximize the information gathered from applicants. More specifically, by having a single question set that is shared across positions, an applicant can be instantly compared to other positions beyond the one to which he or she directly applied. As long as a Performance Profile exists for a position, the person can be compared to it. This can be used in a pre-hire context to route candidates to the jobs they are most likely to succeed in, which is a benefit not only for the employer who is able to find a good home for more applicants but also for the applicants who are much more likely to enjoy and find success in their new roles. The multiple-position comparison can also be used for individuals who are already within the company to determine their fitness for a lateral move or even a promotion. This enables companies to strategically identify who among their current employees is most likely to experience success at the next level and to begin preemptively coaching and preparing those employees.

One Assessment, Many Applications to Foster Success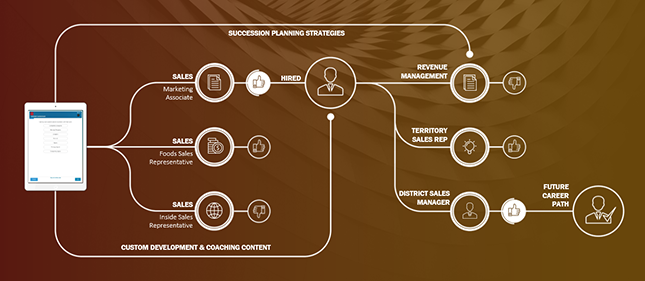 In summary, use of a single assessment is a best-of-both-worlds approach. It enables the research and rigor that come with consistent use of the same questions while also enabling the flexibility of use, precision, and predictability that come with job-specific benchmarks. It turns out that a jack-of-all-trades can be a master of all trades too.

Paul Boatman, Ph.D., Director, Talent Science & Analytics




Product
Talent Management
Talent Science
Region
Let's Connect
Contact us and we'll have a Business Development Representative contact you within 24 business hours