Infor Birst automates the creation of data warehouses in Snowflake
February 25, 2020
By Mona Patel
Managing large-scale data warehouse systems has been known to be very administrative, costly, and lead to analytic silos. The good news is that Snowflake, the cloud data platform, lowers costs and administrative overhead. However, analytic silos can still be a huge problem if the business intelligence platform paired with Snowflake does not offer the right balance of IT governance and end-user self-service.
Customers such as Crossmark, DJO Global, and others use Infor Birst with Snowflake to deliver the ultimate modern data architecture. The Snowflake/Birst combination creates the optimal balance between IT control and end-user freedom, eliminating analytic silos once and for all. Data never leaves Snowflake with Birst's ability to support the reporting and self-service needs of both centralized IT and decentralized LOB teams.
Birst's real-time connectivity to Snowflake delivers a full-stack BI solution with enterprise-grade security, data governance & auditing for organizations of any size and scale. The result is a lower total cost of ownership and trusted data and analytics.
Announced today is not only the ability for Birst to query existing Snowflake schemas, but also to automatically create new ones. Birst 7.3 now has the ability to automate the creation of data warehouses in Snowflake through Birst Automatic Data Refinement (ADR) - patented advanced algorithms to take highly disparate data from many different sources and instantly organize it in a simple, clear and consistent set of business metrics and attributes, so any user, regardless of skill set, can perform analytics.
I spoke with Bhargav Addala, VP of Product Management at Infor, to learn more about Birst and Snowflake partnership, integrations and use cases.
1. When did you begin a technology partnership with Snowflake and why?
Birst is always pushing the boundaries when it comes to cloud database technologies, especially as the need for instant access to real-time insights becomes an integral part of decision making. This essentially translates to a platform that scales with optimal concurrent batch loading and ad-hoc querying performance. Our R&D team is always experimenting with the latest database technologies and had independently integrated with Snowflake as a data source before the technology partnership became a reality. The formal partnership was inked in September of last year, after which we have been fine-tuning the connectivity, including a direct cloud-cloud (a.k.a. agentless) Birst to Snowflake real-time connector.
2. What gaps does the joint solution address in the market?
The benefits of Birst's cloud-native analytics platform powered by Snowflake's world-class cloud data warehouse are numerous, especially as cloud becomes the first choice for enterprise data transformation initiatives. Specifically, the joint solution democratizes data access and provides a true data-as-a-service platform with Birst's governed data discovery in addition to real-time reporting & dashboarding on Snowflake data sources. Additionally, Birst's enterprise admin capabilities provide true separation of responsibilities for IT/BI centers of excellence and data analysts, delivering the practical balance of governance and agility.
3. Let's focus on some customer use cases. What value does this joint solution provide?
The popularity and growth of Snowflake are for all to see and its cloud-first approach to data management, while separating compute and storage. This is vital for our joint customers, as they look for a scalable and cloud-first data management platform as part of broader digital transformation initiatives. It's this value that Snowflake has unlocked, and the real-time connectivity using Birst's semantic layer-based governed data discovery is only the start. Our next release with ADR (Automatic Data Refinement) on Snowflake offers the complete realization of Birst for Snowflake's value – the automatic creation of an analytic-ready data model or data warehouse on Snowflake.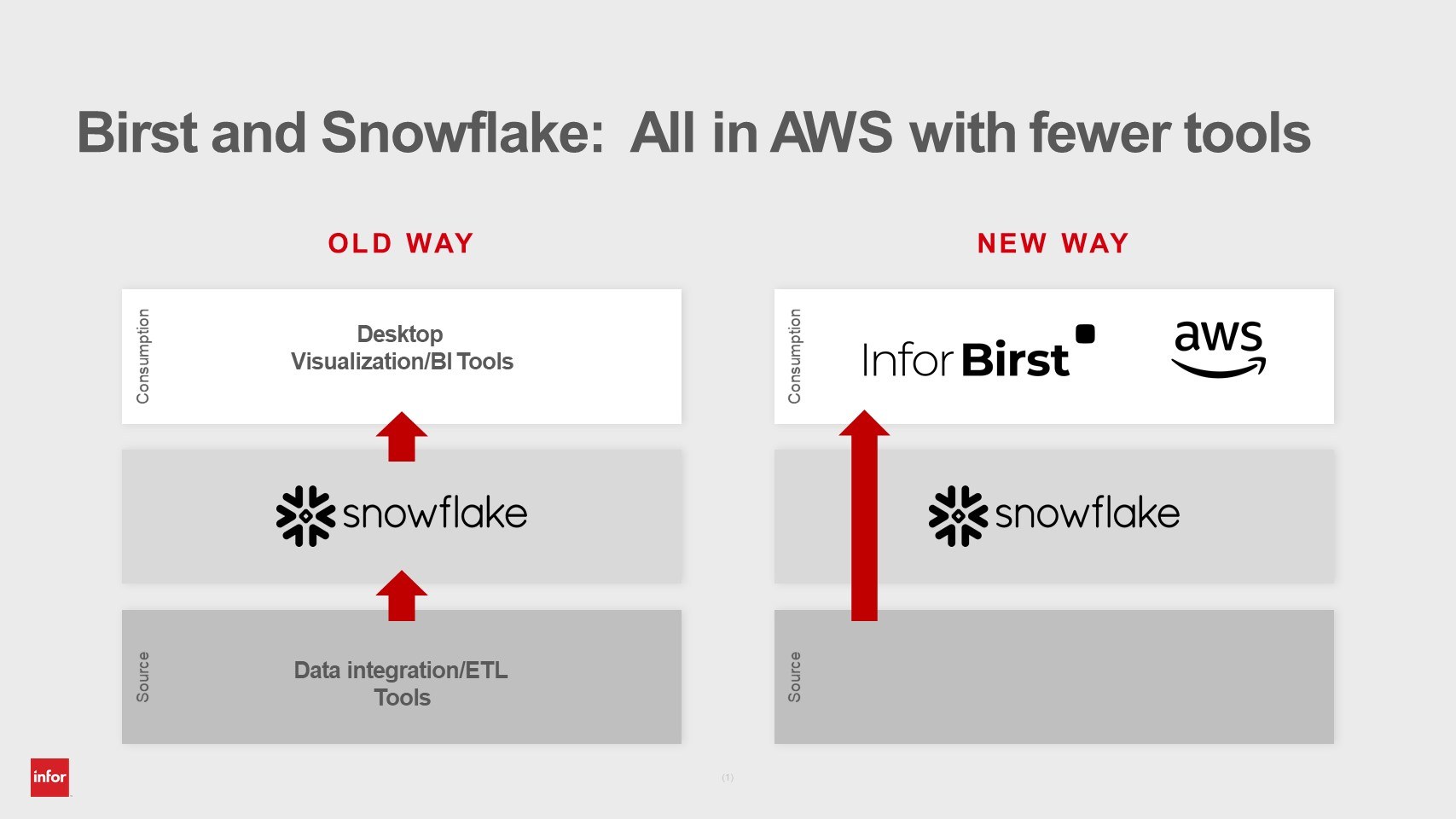 4. What is unique about Birst's ability to bring enterprise-grade security, governance & auditing to Snowflake customers?
The need for speed and agility with analytics, and the growing concerns regarding compliance and security, has resulted in true enterprise-wide analytics involving many personas from IT (Enterprise Admins, Data Engineers) to Compliance (Data Stewards) to Business (Analysts). With this, enterprise-grade features such as single sign-on and centralized governance have become mandatory requirements for self-service analytics. Birst's Enterprise Admin suite provides all the tools needed for this, from centralized governed data connections to built-in semantic auditing, to touch on a couple of unique capabilities that our customers leverage.
5. What integration was announced today??
ADR on Snowflake will be the complete realization of Birst for Snowflake's value. The agile and rapid data refinement philosophy of ADR can be leveraged to instantiate and maintain the cloud data warehouse, which in turn will provide a rapid way to build a true, flexible semantic layer on Snowflake. Further, Birst's advanced performance optimizations, such as Aggregates and Caching, can then be layered on Snowflake's world-class database loading and querying performance envelope to create a complete end-to-end cloud solution for data connectivity, refinement, storage, querying and visualization.

6. How does the Birst and Snowflake integration fit into Infor's overall data and analytics strategy?
Snowflake does not replace the Infor Data Lake. Infor's strategy centers around the Infor Data Lake for building data-driven solutions. For Infor customers, the Infor Data Lake provides a system of record for all data across both Infor CloudSuites and third-party data sources. That data can then be fed into Birst where we can build ADR models on Snowflake for high-performance reporting and analytics with very little overhead. Coleman AI Platform for CloudSuite machine learning, CPM solutions in Infor d/EPM, corporate governance and risk mitigation via Infor GRC, and more are other Infor applications that consume the Infor Data Lake to support data-driven solutions.
To learn more, watch our on-demand Birst and Snowflake online event
Filed Under
Cloud
Data and Analytics
Technology
Let's Connect
Contact us and we'll have a Business Development Representative contact you within 24 business hours