Black History Month: Lynette Blatch keeps paving the path forged by others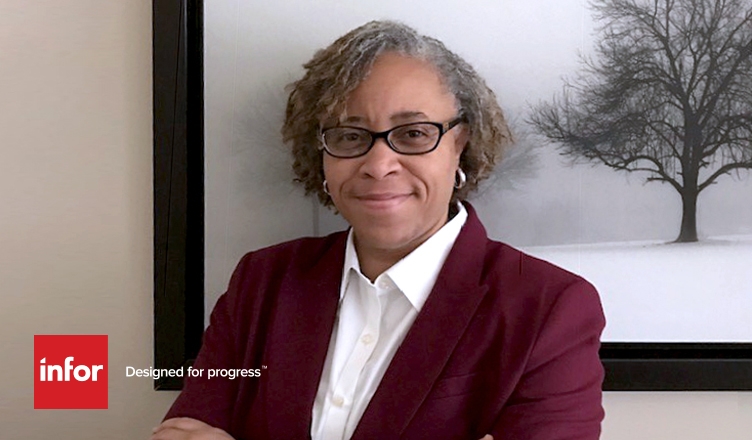 VP of Finance Lynette Blatch has been having fun at Infor for 15 years.
She came to Infor through the acquisition of Geac, an ERP software provider, where she oversaw the accounts receivable department. Now she oversees third-party partner operations for the entirety of Infor's business.
Even during her initial transition, Lynette was excited about the challenge. "I thought it would be fun to be able to work with so many different people from so many different places and backgrounds. And so I've been here ever since, having fun."
Interacting with plenty of people is right. On top of working with the India, EMEA, and Latin America Finance Shared Services teams, all third-party vendors that interact with Infor are overseen by her group. The four teams she manages have a unique set of challenges, from getting partners operational on Infor products to managing commission payments. However, Lynette and her team enjoy tackling and finding solutions to them all. For example, Lynette and her team have helped implement proactive and escalation protocols that decreased losses related to compliance, penalty and payment issues, saving Infor millions each year.
Lynette hasn't had to search far for motivation. Like any dedicated professional, achieving business goals is important, but building the relationships that turn those objectives into reality matters as well.
"When we can build positive relationships and synergies across teams and across organizations, that will get me up every day with a smile on my face."
She made it even more simple: "I'm really motivated by trying to be my best person."
This mindset has taken her far, and has framed how her career touches others. As a black woman, she hasn't felt restricted in attaining her professional goals, but she has always been conscious of the example she's setting for others who will follow her. Someone who looks like her is going to inherit the legacy of her work and decisions, so making it positive is always top of mind. Lynette also credits her 8 years of service in the US Army for helping her develop discipline, focus, and a problem-solving mindset.
"That sense of responsibility has given me the mindset that there aren't any real problems, just undiscovered solutions. We can make a mistake, which is an opportunity to learn, but we don't fail, and we don't quit."
Lynette previously sat on the board of the Atlanta Gay and Lesbian Chamber of Commerce (AGLCC), and she and her wife both volunteer for a handful of other local organizations in their free time.
During Black History Month, Lynette is mindful of the people who helped pave the way for her to succeed. She's had plenty of professional role models, but her father, William Blatch, is perhaps her greatest role model. "My father has 4 daughters and still says to each of us to this day, 'Follow whatever path you choose, but strive to be the best at whatever it is you do while you're on that path.'
"Black History Month is the one time of year where you have to sit back and think about where you came from, where the people who came before you came from, and how fortunate you are to be in the position you're in today."
"It taught me a lot about the importance of serving your community and that you have more to offer than you think you do."

Let's Connect
Contact us and we'll have a Business Development Representative contact you within 24 business hours