Bold for change in celebration of International Women's Day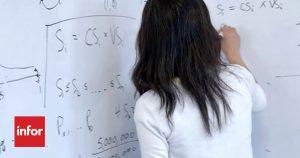 Today
,
we
recognize
International Women's Day
—
a global event to celebrate the accomplishments of women in political, social, economic, and cultural spheres, while also advocating for gender parity.
The theme for International Women's Day 2017 is
Be Bold for Change
—
a day for women to reflect on their accomplishments, inspirations, and actions that helped their development, transformation, and innovation in their careers and lives.
We asked six Infor women to share how they are bold for change in their life. Here
are
their stories:
Sumathi
Raisinghani
, Infor
Xtreme
S
upport operations manager,
based in Sydney
,
Australia,
reflected on her
imperative
steps she's taken to
enact
change:
"
I have learn
ed
that the only way to grow is to take the leap and try things you haven't tried before.
Luckily, I have always been fortunate to be surrounded by people who believed in me and inspired me to
achieve more.
"
She also noted that part of being bold for change is growing from the opportunities presented in both her personal and professional life:
"
From taking swimming lessons to
snorkeling in the Great Barrier Reef, to saying yes to opportunities at work like role changes, and taking on additional responsibilities not directly linked with my work, and being a part of Infor's fast-paced
c
loud journey, each opportunity I took on has helped me grow in ways I did not anticipate
."
Laura
Schalat
, senior principal consultant, based in Singapore, reflected on her decision to leave her hometown in Texas:
"This was a monumental move for me where I changed location, culture, job, and industry all in one bold step, and I have never looked back. Now, I am based in Singapore and appreciating yet another set of cultures and learning from new people every day. While I will always call Texas home, I am grateful from my bravery to leave and find many new places to enjoy
."
Brynnel Dubey,
marketing
director, also discussed her recent relocation:
"R
ecently, I boldly stepped out of my comfort zone to explore a new journey with my husband and our two girls by relocating to Australia. It's easy to fall into what's comfortable, but we chose to be open to something even better by seizing
work opportunities that led the path here with our primary focus and aim to give our girls every opportunity to spread their wings and be whom they chose to be."
Renu Ganotra
, director,
India human resources
, spoke of reinvention:
"Coming from a highly conservative Punjabi family, I had to rei
nvent myself after I joined Infor 17 years ago. From a shy, soft, introvert who was happy working away in the background … the journey up until now would not have been possible if I would not have embraced
change
.
Since then
,
I have constantly endeavored to evolve professionally as well as an individual.
I learn
ed
to accept challenges, and take tough calls. Difficult decisions are never easy to implement but guarantee success. In spite of the many stumbling blocks I strode on, determined that I will cross the bridge when I come to it.
The shredding of the conventional, traditional demeanor in defiance of
the societal expectation and taking the bold step to metamorphose the self has not been easy but has eventually paid off. I have been successful in changing my family's perception about working women and how women can walk the tightrope successfully; manage the work
-
life balance.
I strived to bring a huge change in my life and would like to make a difference in people's lives too."
She also reflected on a poignant turning point in her life:
"Years ago, there was an accident that almost crippled me for life. The doctors told my family that I may never walk again. I was hospitalized for three months and endured another six months of heavy medication and physiotherapy sessions. With no tangible signs of improvement, depression could easily become a constant companion. However, sanity prevailed. Thanks to my husband who encouraged me to fight back. I made up my mind to not wallow in self-pity, and willed myself to embark on the journey to recovery. I started practicing energy healing, took to Reiki
h
ealing technique
s
, and slowly started regaining my foothold and confidence. The journey to normalcy was not easy, fraught with excruciating pain, tremendous stress, and the battle with self. But I persevered relentlessly, in my pursuit of normalcy, and here I am."
For
Jhoana Lopez,
senior
consulting
manage
r
,
based in
Manila
, Philippines,
being bold means:
"Managing 40
t
echnical
c
onsultants
, plus 20 parallel global offshore delivery projects at any given time, and yet still be able to spend
4
days a week with my
2
kids.
"
Lisa Lewis
, director, GT Nexus Global Services,
based in San Francisco,
US,
discussed the challenges she sets to make herself a more effective leader:
"It is important, over time, to review strategy and be open to new possibilities. As we all develop core principles, I challenge myself to experience different perspectives to broaden my professional and personal range. Professionally, I am working to build internal programs to expose team members to other aspects of the GT Nexus platform they have yet to explore. As part of my personal journey, I am traveling to Southeast Asia this spring to experience the beauty, community, and life there."
Lisa believes teamwork and enthusiasm are integral to great leadership:
"
I hope to bring a momentum of energy to the teams I work with to maximize collaborative efforts and sharing of
ideas, which
is an important attribute within the GT Nexus Global Services organization
."
This
International W
omen's
D
ay, Infor challenges you to reflect on how you have and will #beboldforchange. Here's to all the talented, strong, and bold women across the world
.
Happy International Women's Day!
Let's Connect
Contact us and we'll have a Business Development Representative contact you within 24 business hours