Breakthrough Business Models, Part 3: Asset sharing
Part three of a four-part series about developing new business models in the equipment industry

Is equipment-sharing the elephant in the room that traditional dealers and rental firms don't want to talk about? That's the view of Frank Manfredi, industry consultant and president of Manfredi & Associates, a consulting firm and publisher of Machinery Outlook.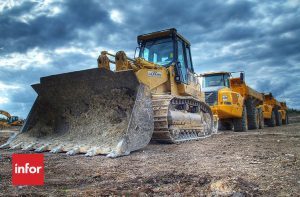 "People just don't understand what it could do them," says Manfredi. He likens the impact of the equipment-sharing model to that of equipment rental which was once a small sector of the industry but now accounts for more than half of the machine inventory. "People were in denial about that, too," he says.

"There's excess capacity in the system," says Manfredi. "Eventually, no one is going to care who owns the equipment, all they want is the hole dug in the ground."

While contractor-to-contractor rentals are still a small fraction of the heavy equipment rental market, demand is growing. In January 2017, DOZR, an online heavy equipment platform in Canada began operating in the U.S., first in Florida, New York and New Jersey then Illinois, Ohio, Pennsylvania and Texas.

Contractors can type in the heavy equipment they need and then receive a rental package with pricing ranging from retail rates to 40-50% discount. Kevin Forestell, CEO and co-founder of DOZR, sees a trend toward longer term rentals, with equipment moving as far as from Ontario to Miami. "The economics make sense when a piece of equipment would otherwise sit idle," he says. Another trend that has emerged is that smaller contractors are often the equipment owners while larger enterprise multinational companies are doing the renting.

Unlike Manfredi, Forestell doesn't view professional rental companies or equipment dealers as competitors but as partners. "They are completely in control of the pricing and availability," says Forestell. "Dozr is helping them find new markets for what might have been underutilized equipment."

In its latest five-year forecast, the American Rental Association expects equipment rental industry revenue in the US to grow from $51.5 billion in 2018 to $59.6 billion in revenue in 2021. Using technology to share equipment brings additional rental inventory to the market without increasing the amount of risk on rental companies and dealers.

In the Upper Midwest, Terry Dolan, president and founder of Never Idle has been building out his own online contractor network. Launched in January 2018, Never Idle is designed to be more than a way for contractors to rent from each other, but also to buy and sell. Operating in Wisconsin, Minnesota, Iowa and Illinois, the company recently purchased FleetRight, further growing its operating region to Nebraska.

"Contractors have to identify projects, bid complex projects and manage and execute those projects to on-time and on-budget completion," says Dolan. "Anything else they do outside of that is a distraction." To make transactions as easy as possible, Never Idle manages nearly everything from insurance to transportation and inspection. All contractors need to do is let Never Idle know what equipment they have available and when. Contracts are between asset owners and Never Idle, and equipment renters and Never Idle, providing additional peace of mind for contractors.

Earthmoving equipment is the sole focus of Never Idle, providing machines that it believes the current rental market is lacking. The company's current focus is on building up inventory to meet growing demand. Never Idle provides a mechanism for contractors to sell a piece of equipment on a rental purchase agreement. "This allows contractors to sell their equipment at a higher retail price, and it is an option that hasn't been available to them before," says Dolan.

A number of OEM dealers are service providers for Never Idle. "Some dealers view us as a competitor, but others say, 'you are helping my customer,'" adds Dolan. The platform is designed to help contractors lower their costs and provide them with some additional revenue.

Dozr and Never Idle are just two of several equipment-sharing concepts that are bringing new possibilities to the market. It may be time to discuss what the elephant in the room means for your business.


Industry
Equipment
Equipment Dealers Rental & Service
Let's Connect
Contact us and we'll have a Business Development Representative contact you within 24 business hours