Building customer loyalty in B2B manufacturing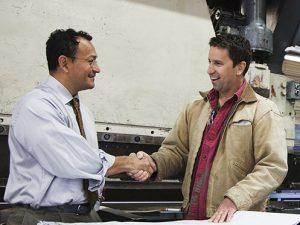 It's the era of customer focus. Manufacturers in every industry are learning that customer obsession—not just customer service—is increasingly critical to success. For many manufacturers, this is a new way of looking at the market, one that causes operational questions as well as concerns about technology gaps. Fortunately, modern software solutions can help manufacturers step up to the challenge of building long-lasting relationships with customers.
The back story
Discrete manufacturing has a long history of creating make-to-stock products on an assembly line with few, if any, variations. Process manufacturers could depend on formulas and ingredients that remained unchanged for decades, from primary metals to beer and cheese. The distributors and retailers had the arduous task of engaging with consumers, listening to their feedback for product improvements. That was often where consumer feedback stopped—far from reaching the design engineers and product development teams who sat at the drawing board envisioning new releases.
Technology changed that business model, seemingly, overnight. E-commerce, social media, and online portals for customer engagement put the users in direct contact with the manufacturers. These communication tools quickly enabled unprecedented levels of product customization. Consumers can now order personalized versions of a wide variety of products, from shoes and jewelry to furniture and cars.
Highly configured products, late-stage assembly, modularized design, and mix-and-match components are just some of the shop floor tactics that have helped make this transformation possible. Manufacturers need to keep pace with these changes in production workflow, adjusting capacity planning, inventory of raw materials, and shop floor cycles for greater agility. Flexible processes, robotics that can "learn" different tasks, and responsive material handling and order fulfillment systems are part of the new normal. Manufacturers who try to patch and make do with tired, legacy equipment will have trouble remaining competitive.
The unique challenge of customer relationships in B2B

It's not just consumer packaged goods, high-tech electronics, and food & beverage (F&B) products that must strive for customer relationships so they can stay on top. The desire for an attentive, one-on-one experience has spilled over to B2B industries as well. Construction machinery, industrial equipment, specialty vehicles, material handling equipment, and mining/drilling industries have always managed a large percentage of engineer-to-order (ETO) accounts. But, now, those procurement agents and decision-makers are bringing higher expectations to the relationship.
Private labeling has become more critical in the F&B industry as the big box stores build their brands based on value. In auto, aerospace & defense (A&D), and industrial markets, the ability to collaborate on design features, track order progress, and access information about purchase history, warranties, and after-market service are among the capabilities that are now often considered table stakes by many purchasers.
Software solutions help fuel engagement
Infor CloudSuites for manufacturing provide many tools that support customer relationships, from solutions that help manage account details to configuration tools to help the customer obtain quotes on product variations quickly and easily. Collaboration tools also help keep communication open. Online portals for purchases, checking order status, and warranty agreements are among other valuable capabilities.
Manufacturers who are not keeping up with evolving trends and engaging with customers on multiple levels are at risk of being replaced by an assertive, tech-enabled competitor.
Service creates differentiation

Global competition and threats of product commoditization keep manufacturers searching for ways to differentiate themselves. Product innovation, value, and service are typical approaches. Today, early adopters of digital technologies are able to offer customers relevant data generated from product-embedded sensors. Providing customers insights about product performance, maintenance, and service is a strong way to cement relationships.
The ability to provide product-based data contributes to differentiation, yielding repeat sales, collaborative ventures, and strong references for prospective customers.
But earning loyalty in B2B markets often poses other challenges, from complicated channel structures, concentrated buyer communities, or large accounts with many people influencing the relationship. Defining who the customers really are and how to best engage them requires tailored solutions and a higher level of sophistication.
Benefits can be measured
Research conducted by
Bain and Company
shows that B2B customers who are "promoters" have an average lifetime value three to eight times that of "detractors," depending on segment and industry. "Promoters stay longer with the company, buy more products, usually cost less to serve, and are more likely to refer the supplier to colleagues and friends," the report says.
Companies with a high Net Promoter Score also tend to have large sales growth, expanded market share, increased sales force productivity, greater employee engagement, and higher profitability, according to Bain research and client work.
"As a result, B2B loyalty leaders tend to grow four to eight percentage points above their market's annual growth," the report concludes.
Address the basics first
Manufacturers setting out to improve relationships with customers can start with the most basic practices for communication and building opportunities for engaging and learning from each other. Here are four tactics for building a communication wheel of continuous engagement.
1. Create venues for meaningful customer interaction


Identify "moments of truth" when the customer will likely provide feedback.

Identify decision makers and make connections with each one, not just a few.

Prepare customers for feedback requests. Let them know why input is valued.

2. Encourage customer communication at multiple levels


Ask for input in a positive, convenient, easy-to-access forum.

Let the customer chose how and when they will engage.

Strive for one-on-one dialogues with multiple contacts in different roles.

3. Close feedback loops


Empower account managers and customer service agents to resolve issues.

Provide quick follow up, answering questions with accurate data.

Escalate issues as needed, based on the customer's priorities.

4
. Learn from engagements


Identify opportunities to apply knowledge and learn from previous errors.

Find successes to celebrate and heroes to label as role models.

Work with cross-functional teams to resolve process issues.

Communicate your actions with the customer.

Concluding thoughts
Manufacturers—no matter their industry—need to step up their efforts for building relationships with customers. The effort will provide measurable results, from repeat sales to upgrades and references. In this era of highly personalized products, manufacturers will also need to change shop floor processes to accommodate ETO and MTO processes. While the complexity may increase, the benefits will too.
Let's Connect
Contact us and we'll have a Business Development Representative contact you within 24 business hours