Celebrate a key contributor to manufacturing transformation: automotive manufacturers
Manufacturing Day
is coming up Friday, Oct 7, to celebrate modern manufacturing. As part of the tribute, we are focusing this week's blog posts on the heritage of progress in the manufacturing industry and its future of innovation and transformation. Today, our focus is on the automotive manufacturing industry.
The automotive industry is arguably one of the most influential industries in American culture, inspiring songs, stealing the scene in movies, and serving as the status symbol for everything from teenage freedom to ridiculous wealth.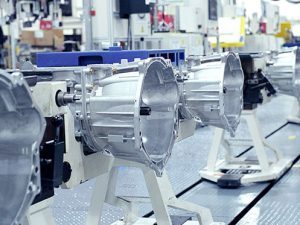 The automotive industry is also one of the most influential when it comes to manufacturing progress. This industry is chock full of examples that not only revolutionized automotive manufacturing, but transformed operations across manufacturing overall.
Let's look at a few examples.
Daimler and Maybach
patented one of the first successful high-speed, internal-combustion engines and developed a carburetor that made it possible to use gasoline as fuel.
Henry Ford gave us the moving assembly line
. Manufacturers worldwide--and even companies outside of manufacturing--have embraced the tenets and tools of the
kaizen-based Toyota production system
to improve efficiency and productivity within their operations.
More
transformative trends and opportunities
are on the horizon. From autonomous vehicles and the evolving car ownership model to compliance with fuel-efficiency regulations and the rise of the electric car, there are a lot of forces converging for automotive manufacturers.
This transformation also means opportunity, making now an amazing time to be part of the auto industry and the chance to help determine how that transformation will shape the future.
According to the
2015 Skills Gap Report
issued by Deloitte and the Manufacturing Institute, 3.5 million manufacturing jobs likely need to be filled over the next decade. Here are
six ways you can develop your talent pool
as you move your manufacturing operations forward during this transformative time.


Build a pipeline of young workers by engaging early in science, technology, engineering and math (STEM) initiatives at local high schools, community colleges, and universities. This could include working with teachers and professors to incorporate key skill development into their curriculum, provide staff as visiting professionals to share expertise, or sponsoring a STEM-based scholarship or award.

Create and execute a comprehensive communications strategy to attract job candidates. In addition to attending job fairs and hosting on-site events for potential employees, this strategy could also include better use of social media channels like LinkedIn and Facebook for both job postings and other recruitment efforts.

Avoid focusing too much on job candidates' specific skills and experience. Instead, consider a candidate's overall competencies and potential. As operations vary across manufacturers, on-the-job training is to be expected. Even if your candidate doesn't know how to use your machinery or systems, they may still end up being among your best performers if they show they have a willingness to work hard, learn quickly, be a great teammate.

Create a culture of employee development and growth for current employees. Once you have good people in place, make sure they can learn new things, grow their careers, and advance within your organization. Keep your employees engaged by helping them contribute in new and productive ways.

Build a comprehensive training strategy. A holistic training strategy thinks about all the opportunities your employees have to learn, including formal training, informal training, knowledge sharing, apprenticeship, and ongoing performance support and coaching.

Train managers to support a culture of continuous learning. Don't forget that your management staff need ongoing training, development, and direction as well. In addition to ensuring they have opportunities to learn and grow their careers, make sure managers are positively contributing to an overall culture of growth and continuous learning within your organization.

There are many exciting things to come for automotive manufacturing. Position your organization now with the right people and technology to build on this industry's rich heritage of progress and keep automotive manufacturing at the forefront of manufacturing—and cultural—innovation.
Let's Connect
Contact us and we'll have a Business Development Representative contact you within 24 business hours