Change: From pain to prosper
Whether you are updating to the new iOS 10 or a company-wide overhaul of your CRM software, you can expect there to be naysayers. For some people the only response they know for change is "I don't like it". While it can be disruptive, it doesn't have to be difficult. Here are three ways to help change go from being a
pain
to helping your company
prosper
.
Gain early buy-in:
This is not a revolutionary idea. If you can get buy-in from your team before the new system is implemented, you will meet less resistance once the system goes live. Find at least one person in every department or at the very least, someone in your organization that everyone respects, to start hyping up the change. The bandwagon effect is very strong when it comes to change so why not use it to your advantage?
There will also be fewer complaints if there is buy-in early on in the process. If your team feels they were a part of the decision, they are less likely to criticize it once it is in place. People want to give input and feel like they are being heard, so as change comes to your organization, allow the input of others to help make your decision.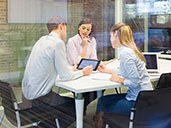 Manage expectations
: Once you have the buy-in, it's important to manage the expectations of change. For instance, some think change will solve ALL of their problems. As an example, a new CRM system will not automatically turn a poor salesperson into a stellar salesperson simply by implementing the system. The systems job is to change behavior, make it easier for that team member to work thus making them more productive and allowing them to prosper. As you move forward with the project, having a solid business case is a great way to manage expectations and ensure everyone has a clear understanding of the project. Teams should be excited about the change, but managing expectations is key to a successful launch.
Be open to feedback
: When you are the one facilitating change, it can be hard not to take all feedback personally – especially the negative feedback. Early buy-in and managing expectations can help but you must also be open to feedback as the process unfolds. You may become the project expert, but a fresh perspective can help make the implementation run more smoothly. At every stage, allow team members to give positive and negative feedback to improve the way your new system works, you never know what idea will help improve the system beyond your original plan.
Change is never easy, but it doesn't have to be a pain. Gain early buy-in from all departments involved in the change so they feel ownership. Manage expectations of the process and how the new system will empower them to be more effective but is not the silver bullet to success. Finally, be open to feedback along the way to make necessary adjustments without taking things personally.
Go forth and prosper.
Written by:
Kristen Luedtke, Senior Inside Sales, Infor
Let's Connect
Contact us and we'll have a Business Development Representative contact you within 24 business hours