Change management is a critical element of digitalization deployment
Manufacturers know that change can be very stressful to an organization. Processes in a state of flux lead to uncertainty, duplication of efforts, and gaps in procedures as teams sort out old and new protocols and allocate time to re-learning their day-to-day tasks. A change management plan can help make adoption of new technology less chaotic. With the digitalization evolution on the horizon, manufacturers should brush up now on their change management tactics and fold them into their digitalization deployment plans.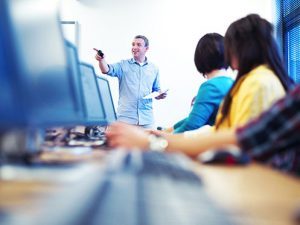 Avoid the headaches
Most humans are creatures of habit. We find comfort in routine and appreciate knowing that certain outcomes can be trusted. Job stability is often cited as a top motivating factor for a career choice or reason for accepting a particular position. Frequent change in an organization can lead to high employee churn, further exacerbating the upheaval. Once this cycle starts, it can be difficult to curtail, much like a sweater unraveling.
Taking preemptive steps to manage change is the logical alternative. Unfortunately, managers can become so focused on spearheading the investment and operational issues of an initiative, they neglect to also address the needs of the workforce. Or, they may assume a few training sessions will be adequate preparation for adopting new technology. Training is important, of course, but only one part of a comprehensive approach which is more likely to generate acceptance and help personnel embrace the new directives.
Digitalization and its related technology, Internet of Things, has the potential to unleash high impact change throughout the organization. Preparing now for the transition will help make sure your personnel are not just "going along" but are fully engaged and taking a vested role in success. Here are ten tips for building a culture within your organization that embraces change.


Explain motivation. Share with your teams why you are adopting this technology and what you plan to gain, and the stakes involved.

Remove barriers. Employees may face obstacles to learning a new skill or process. Work to resolve challenges employees face, including learning/reading and physical abilities.

Acknowledge risks. Every initiative has risks and potential setbacks. Don't deny or try to hide them. Left to speculate on the possible dangers, employees may assume worse case scenarios--are often much worse than the real risk.

Be honest and fair. Set an example and make sure your line managers know your expectations and also follow your standards.

Set a realistic timetable. Don't rush. Unrealistic calendars cause added stress and errors, often resulting in setbacks to actually slow the process. Be flexible whenever possible.

Give employees a voice. Invite personnel at multiple layers in the organization to planning sessions. Listen to ideas from front-line users. Give employees credit for their contribution.

Provide education and training. Teach new skills requires. Accommodate various learning styles, including hands-on learners.

Communicate early and often. Keep dialogue flowing between management and personnel throughout the evolution, welcoming input and feedback.

Adjust plans if needed. Acknowledge when plans need to be revised. Include in your deployment plan checkpoints for deciding go/no-go.

Celebrate wins. Reward personnel for accomplishments, including early wins. Celebrate as a team when goals are met.

Following these simply guidelines will help your shop floor and front line personnel feel positive about the technology adoption. Fully engaged employees are critical to making your digitalization projects successful. Investing time and resources in change management pays off.
Learn more about Info
EPAK (Enterprise Performance Accelerator Kit)
, a single platform to manage training and education programs for personnel.
Let's Connect
Contact us and we'll have a Business Development Representative contact you within 24 business hours