CIOs: The change and innovation officers
In
an interview published with McKinsey&Company this month
, Audi CIO Mattias Ulbrich shared his observations about the new expectations that come with running and wo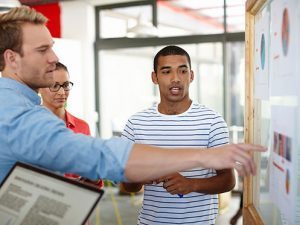 rking within the information technology (IT) organization at an automotive manufacturer in this era of digitization.
His insights echo those we shared earlier this year from
guest blogger Ron Bienkowski regarding bimodal IT
and how this model requires automotive manufacturers to understand the difference between core competencies and emerging technologies, and the importance of multi-disciplinary teams.
With the massive pervasiveness of technology in our lives and workplace, the IT department is no longer just about making sure the servers are running, data is accessible, and helping employees who've locked themselves out of their computers. Again. It's now so, so much more.
Here are four key takeaways for automotive manufacturing CIOs and IT professionals to consider as they work to implement digitization initiatives in their industry and organizations.


Collaborate across departments--particularly across IT and business disciplines. According to Ulbrich, Audi has moved away from organizational hierarchies to "cross-functional competence networks." This network structure helps them be more creative, share information, expand their reach, and bring more people across functions into the conversation than with the previous hierarchical structure. The IT department now shares, and receives, innovative ideas and problem-solving skills with colleagues across the organization and departments.

Shift your perception of what "IT" means. At Audi, "IT" doesn't mean information technology; Ulbrich says it means "innovative transformation." To make sure the IT department is poised to help your organization succeed, you need to rethink how you want your staff to work within your operations and help proactively lead it through its digital transformation.

Keep an open mind when it comes to new technology trends and ideas. Sometimes new ideas aren't just new--they may seem almost foreign. When you hear these ideas, your initial response may be "it's too difficult," "it's too expensive," or "it's too out of touch with what we are trying to achieve." These are all reasonable responses; however, consider pausing and asking yourself a few clarifying questions before you respond. How do you know the idea will be too difficult/expensive/out of touch with your strategy? Are your assertions backed by quantifiable data, or just anecdotal examples based on experience? Make sure your response is defendable with information beyond that one time things went badly.

Visualize what digital transformation will look like in your operations and what you will need to get there. It will be important to collaborate with your business partners and establish what you see things looking like in the future after your digital transformation strategies are in action. Along with the likely many improvements, you can expect the definition of IT will continue to evolve, as well as the skill set required to work in it. New technologies will pervade automotive manufacturing operations, from the plant floor to the front offices, and on to suppliers and customers. These new technologies may require skills in robotics, augmented reality, machine learning, and other yet uncovered skills. An openness to learning will be essential.

It's a transformative time for the automotive manufacturing industry and the CIOs and IT professionals working within it. No longer can a CIO or IT professional claim they only deal with the technology systems--even new ones like robotics and augmented reality.
In today's world, technology is everywhere, affecting everyone and every business process. It's time for automotive IT professionals to embrace your role as the "innovation transformation" professionals, and expand your skill sets to include an understanding change management tenets to help lead your organization's people and processes through a successful digital transformation.
Let's Connect
Contact us and we'll have a Business Development Representative contact you within 24 business hours