CloudSuite Industrial APS Best Practices #1 – Don't Use a Hammer to Paint the Bedroom
A lot of us have a problem.
Customers want us to ship their stuff on time. They want to be able to depend on us. On our side, we want to be a company they love to do business with. But a lot of us have a hard time shipping on time. Some of us struggle to ship even 70% of our orders on time.
We might have a product our customers love. We might be easy to work with. But we're probably losing business and causing customer frustration because we struggle to ship when we promised we would.
So, is there anything in the application that can help us with this?
Yes, the APS feature in CloudSuite Industrial is designed to help us ship on time.
I recently polled hundreds of CloudSuite Industrial customers on features that they wanted more training on. Guess what their number one topic was?
Advanced Planning and Scheduling (APS).
And no wonder—we all want to be that reliable business our customers love to buy from.
The good news is you don't need to recreate the wheel when figuring out how to use APS. Many companies have already used APS to help them become faster and more reliable. That reliability has helped them not only avoid losing sales, but it's generated unsolicited kudos from their current customers and helped them bring new customers on board.
In this series, you'll learn the best practices these companies are following with APS so you can use them to help your business.
The first of these best practices is recognizing that it's not just about APS. When we purchase a big software system, we often think it's going to handle our entire business process. But that's a mistake because software usually only helps with parts of the process, and they might not even be the critical ones.
A business process is there to help us accomplish an organizational goal. Such a process will usually include a formal and integrated set of:
Objectives
Policies
Procedures
Transactions
Files
Reports
Controls
Notice that a number of those items, like objectives and policies, have nothing to do with the software. In fact, you might have business processes that use no software at all.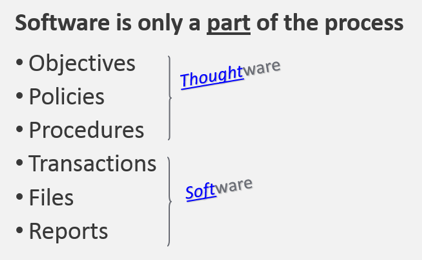 It's critical to make the distinction between the software and the whole process because you can't just plug a new software system into an existing process and assume the process will work. The software might be designed for completely different objectives.
This means that to ship on time, you have to make sure that all of the parts of the process complement each other and are working toward the same goal.
That being said, APS is not designed to work with all types of planning goals that companies might have. If you try to plug APS into a process with a goal that's at odds with what APS is designed for, you will end up with a process that works against itself. This will prevent you from realizing the results you were hoping for, and it will dramatically increase the risk that your APS implementation will fail.
Trying to use APS in a process it's not designed for is like using a hammer to paint your bedroom. If you want to paint, get some rollers and brushes. Leave the hammer for other things.
So what kind of a process is APS designed for?
APS is designed to help you ship on time with a just-in-time (JIT) supply plan. Period. End of story.
APS is not there to help you level load, minimize setup times, or utilize your direct labor resources at 100% of capacity.
APS was built to help you coordinate your demand, production, and procurement plans in a JIT fashion.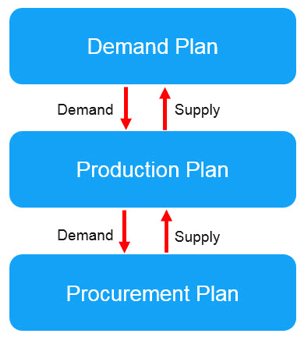 Some folks come to APS with a demand plan, production plan, and procurement plan, but they're not coordinated in a JIT fashion. Sometimes it feels like they're not coordinated at all. APS will help you coordinate them. However, if your overriding planning goal isn't coordinating your plans in a JIT fashion so you can ship on time, then you need to find another tool.
The first best practice of companies successfully using APS is making sure that the goals match and everyone is on board with the goal. And that overriding planning goal is to ship on time in a JIT manner.
So, if that is your goal, what's next?
We've found that the companies who are most successful with APS follow four key principles. And in the following posts, we'll share each one, along with a number of the practices that go along with them.
For those who want to explore APS in more depth, you can take a self-directed course on Infor Campus. When you finish that course, you will know all the key steps of planning with APS and be able to start thinking about how to use it at your site. Register now>

About the author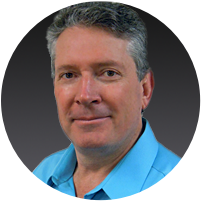 John Brown | Education Product Manager, Infor
John is the Infor Education program manager for CloudSuite Industrial, CloudSuite Business, and CloudSuite Industrial (SyteLine). He joined the Education Department in 1999, back in the Symix days.


Filed Under
Education & Transformation Services
Industry
Distribution
Industrial Manufacturing
Let's Connect
Contact us and we'll have a Business Development Representative contact you within 24 business hours