CMMS vs. EAM—what's the difference?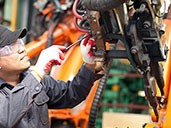 There are many product types available today which claim to solve the problems of messy maintenance tracking systems and planning issues. And there are even more companies claiming their software is best, has the most functionality, or is easiest to use. So how do you decide what's right for you? Molly Bedrock of Optima Asset Maintenance Solutions, an Infor partner, takes a look.
In the past, Computerized Maintenance Management Systems (CMMS) were the only options for managing assets, with many variations. The original CMMS systems were described as "big CMMS" or "small CMMS", and supported data storage from many maintenance activities such as spares purchasing and inventory control. Larger, more recent packages may even aid warehouse and procurement management.
Learn more about the differences between CMMS and EAM.
However, over the past ten years, the maintenance management for large, physical asset-dependent organizations has become more complex, and the requirement to interact and integrate with other business areas has grown. An enterprise asset management (EAM) system will assist with the management of assets, work, labor, projects, inspections, materials, reporting, and sustainability. It will also integrate with financial planning and management systems. The wide spectrum of interactions allows the organization to take a holistic, enterprise-wide integral approach to maintenance.
Why the difference matters
The holistic approach to maintenance management aided by EAM systems is beneficial in four distinct areas:


Return on Assets (ROA) - Most EAM packages provide dynamic inventory software which is connected to all other data inputs in the system. This means, for example, that when an inspection takes place and data is entered into the system, the data is used in the dynamic inventory to assess the likely need for spares. The software will then initiate an automatic action prompting the relevant person to consider these parts for purchase.

Asset emergencies - One of the primary advantages of EAM systems is the ability to predict an asset failure or fault. This ability reduces unforeseen down time, increases productive time, reduces emergency expense, and provides peace of mind for the organization and its clients and stake holders.

Regulations and compliance changes - The automation of actions by EAM systems ensures that when a change in regulations and therefore compliance requirements occurs, the system will alert the relevant people to any potential issues or non-compliant equipment or processes. For any organization, a change in regulations is a complex process involving many reviews and possible changes to work plans or established practices. These processes are often time consuming and costly. An organized and easily accessible system such as an EAM system can significantly reduce unproductive time and manpower spent on these processes.

Data clarity - Ease of access to data stored in an EAM system is a huge benefit in any decision-making process, because it increases confidence in decisions, saves time, and makes the decision process fully and quickly auditable.

Ultimately, using an EAM system boosts consumer and stake holder confidence in the organization, which in turn will increase profits, partnerships, and reputation within your industry.
Product
CloudSuite Distribution Enterprise
CloudSuite Facilities Management
Infor EAM
Region
Let's Connect
Contact us and we'll have a Business Development Representative contact you within 24 business hours