Cormac Watters, Infor Executive Vice President, and General Manager EMEA, looks back at topics from EEF Conference
The recent
EEF Manufacturing Conference
provided an educational and networking experience that was both insightful and inspiring, attendees reported. The unique, expert views of the speakers are highly relevant in today's volatile landscape. The sessions will certainly inspire manufacturers, motivating them to seize opportunities, while reinforcing best-practices for the modern, digital era we have been plunged into. Between the impact of Brexit and disruptive technologies, manufacturers have plenty of changes to adapt to. Several speakers addressed the topic of change and remaining relevant.
Following the event, conference organisers interviewed presenters about their reactions and key take-aways from the event. Infor's Cormac Watters, Executive Vice President, and General Manager EMEA, presented a session on modernising your workforce, post Brexit. Here are highlights from the interview.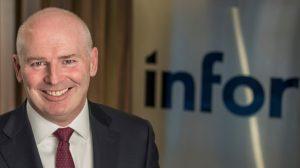 Q: What are the biggest changes you see ahead for manufacturers?
A: I think the world is moving quite fast around us and technology is playing a huge part in that. From an enterprise software perspective that technology has now moved into what they call digital-- which is a word that everybody uses, but no one is sure what that means. To us it means, among many things, cloud deployment. All of the IT infrastructure requirements are managed
for you
. You don't buy this software. You pay a rental or subscription fee and therefore all your upgrades happen automatically. Cloud deployment also facilitates the use of mobile devices and brings a consumer-grade interface that we're all used to and brings it into the workforce. Mobilising the workforce is what is driving a lot of the efficiency now. It's very rare these days that you must go on a training course to learn how to use our software. It's very intuitive, easy to use, empowering workers to be highly engaged.
Q: How are you responding to the fast pace of change?
A: Infor is an ERP vendor but we also offer all the applications needed to run the enterprise--including talent management, business intelligence, and artificial intelligence. We have found most of our customers prefer a single suite of software that easily integrates and is accessible company-wide so all the users of their business have access to the same kind of common experience. In the current climate with the scarcity of resources, talent science and recruiting the right people is especially important. This is one of the most important strategic challenges that we all face. Our software has some very key advantages to enable you to not just look at the academic qualifications or technical qualifications of the candidate—but also consider attitudes and perspective, determining the right fit into your organisation. You want to choose applicants which will work well with the existing team-- and the team that you want to build. Those softer skills can now be identified and considered.
The look and feel of our software also helps recruit and retain workers. Today, workers insist that the software they use is intuitive, much like the apps they use in their personal lives. So, it's important that we not only recruit the right people-- but we also must make the environment be appropriately interesting in order to retain them.
Q: What do you think will be the biggest impact of Brexit?
A: Brexit is coming and that's going to have a range of impacts on all of us, I think. From the software provider's perspective, there's a degree of uncertainty about what that means. So, what we need to be doing is making sure all our customers are using our software today in a way that enables us to provide the updates that are needed to make them compliant in the new world and what's going to be needed to track and trace imports and exports and duties. It is going to be a different world we'll be in, from an EU context than this one today. So, the software needs to provide functionality to make reporting easier rather than adding burden. For customers in the cloud upgrades happen every quarter—automatically. That's going to make that transition so much easier for the customer.
Q: Are you customers prepared and ready to adapt to the post Brexit world?
A: I think that's probably one of the key learnings that we've discovered in the last few months as we've talked to customers about their expectations for coping with post-Brexit demands. They want to be ready for future changes even though they don't know what they are yet.
We do know that in a post Brexit world there is going to be a scarcity of resources—skilled workers. We want to do our part to make sure we are helping our customers cope. We're helping by providing tools that manufacturers can use to manage complexity with greater efficiency. Manufacturers can also get up and running with new systems quickly. Manufacturers all seem to have a desire to make the project shorter, get it delivering benefits quickly. They no longer want multi-year traditional ERP projects. We can do that. With cloud deployment customers get the new functional quickly—and it's functionality that will help them remain relevant—and recruit the new workforce.
Let's Connect
Contact us and we'll have a Business Development Representative contact you within 24 business hours