Creating the next generation of innovators
Infor Center of Excellence to provide enhanced learning opportunities at City Tech
By Pam Murphy, Infor COO
A company is only as strong as its employees, so one of the most important aspects of my role as chief operation officer is to ensure an environment that helps Infor recruit and retain the best in the business. One of the biggest challenges facing tech companies is that the demand for tech talent is growing faster than the supply. We need more workers trained with critical technical skills. To address this shortage, we did what Infor does best—we innovated.
Public-private partnerships with educational institutions presented an opportunity, so in 2014 we launched the
Education Alliance Program
(EAP) to build our own talent pipeline. Through the EAP, we are able not only to attract the best and brightest, but ensure they have the skills to succeed at a company leading the development of the next generation of business applications.
Over the past 2+ years, our EAP program has helped meet the rising demand for new technology talent, providing students at educational institutions all over the world with access to an experiential environment working with Infor software to better prepare them for a tech future. To date, EAP has touched more than 2,000 college students and placed approximately 200 in employment at Infor, our partners, and our customers.
Last week, we opened our newest Center of Excellence (CoE) in collaboration with City Tech (New York City Institute of Technology). This expansion on our existing partnership with City Tech will provide students a dedicated space on campus to dive deeper into their course work though hands-on, experiential time with Infor applications. Check it out: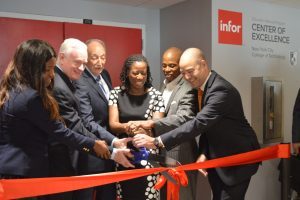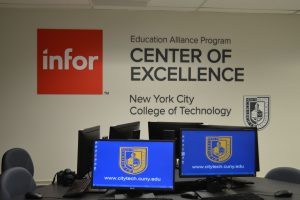 This innovative lab and learning environment expands student access to cutting-edge software, such as Infor's Mongoose application development framework, as well as guidance from faculty who collaborate with students on projects. The hands-on experience gained through the CoE will prepare participants to enter a number of career paths, including system analyst, integration consultant, and application developer.
This center and our EAP curriculum will provide students with experiences crucial for learning and job preparedness. As they learn to build, implement, and apply applications beyond the classroom, they not only gain important technical skills but also develop the decision making and critical thinking skills vital to employee development across the technology landscape.
It is our mission to ensure that students who have participated in our EAP programs are empowered for success wherever their career paths may lead them, whether here at Infor, with one of our partners, or elsewhere. We are thrilled to be able to offer these opportunities through our CoE and coursework to students at City Tech.
By building upon our existing partnerships and creating new ones, we are creating a symbiotic relationship between our employees, our customers, and Infor. Really, it's a win-win for all.
Learn more about the Infor Education Alliance Program.
Let's Connect
Contact us and we'll have a Business Development Representative contact you within 24 business hours