While in the grocery store I saw a man wearing a shirt that said "Data is the New Bacon". I smiled and began thinking to myself, what does that mean? I assumed it's based on "everything is better with bacon" so in my opinion, it translated to "business is better with data".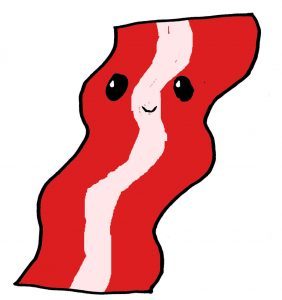 (
Photo credit
)
So now the question is, "how do you get the data to make your business better?"
Good Data Stewardship
An organization has to have an overarching plan for data collection which requires good data stewardship. By that I mean, there has to be a purpose and a strategy for how you collect data. It has to have meaning to the person collecting, otherwise what's the point? Management wants to have data so they can make well-informed business decisions and be able to confidently take action. Good data stewardship is a plan, it's a structure, it's a strategy.
Data Discipline
The organization has to explain good data stewardship to users and all departments across the organization. As an end user, the key to data discipline is incremental collection.
How do I, throughout the course of a work day, collect data carefully, accurately and in a place that makes sense to me? Through the dedicated use of Customer Relationship Management (CRM) software as an example. When using a CRM application, you are managing incremental activities for the day from phone calls, meetings and communications to interactions you're having with your customer over email.
Making Data Collection Easy
In order to make data collection easy, it's imperative to have a system that is available everywhere you and your team are. With Infor CRM this is made possible with things like the Outlook plug-in that enables you to read email, react to email and use CRM at the same time. This can launch you directly into the full browser access, to see everything happening in CRM including other interactions that you may not have been involved with.
Good data, aka the bacon, means you can use information from other people while interacting with that customer and later they can use the data you've created so you can ensure the interaction with the customer is relevant and meaningful.
Most users are mobile, which means your CRM application should be too. Infor CRM Mobile leverages the native functions the Infor CRM application and the native functions of your mobile device which makes it simple to dial and record your notes to history using voice to text. This ensures better data because you are updating in real-time and not missing key information that may be forgotten by the time you get to your computer.
Bite-sized Chunks
Just like my kids cleaning up their room, if you wait to update CRM all at once, it seems like a lot of work but if you clean your room incrementally, it's so much more manageable and becomes a part of your day instead of a daunting task. Same with bacon, do you put the whole package in your mouth all at once or do you eat it one strip at a time? J
All this to say, yes, data is the new bacon.
Written by:
Erik Tavenner
, Solution Consultant, Infor
Let's Connect
Contact us and we'll have a Business Development Representative contact you within 24 business hours