Defining networks in F&B and why they matter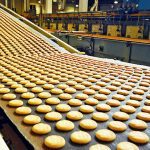 The Food and Beverage industry has had its ups and downs, hits and misses, close calls and grand slam hits out of the ball park. Erratic seems to be an appropriate qualifier, on good days. On the other days, chaotic and confusing may come to mind. How is a food processor able to cope with never-ending waves of change, evolving restrictions, fluctuating market demands, and consumer fickleness?
Baby steps toward modernization
Food processors have often lacked the capital and IT expertise to invest in a whole-system overhaul. Rather than upgrading their ERP system, investing in a more engaging customer relationship management solution or moving to cloud deployment, they have focused on new products, capital investments and mergers and acquisitions, to try and drive growth and efficiency. In some cases, food processors have been content with a "wait and see" attitude, allowing early adopters to absorb the risk of early trials as best practices are defined and proven.
For some companies, small steps toward modernization have provided some stop-gap improvements and kept operations performing, complying, and continuing to eek out a profit. For small or mid-sized companies, that may have been sufficient.
Times are changing
The need for modernized systems is about to intensify, forcing food processors to invest in their future or risk obsolescence. Digitization disruption will hit the Food Processing industry with the same power-packed punch that transformed other industries, like ride-sharing, entertainment, media, banking, travel, and education. New networks will emerge from a re-imagining of the entire farm-to-table processes. No longer will innovation and data intelligence be constricted to the four walls of the organization. One of the hallmarks of this digital era is that data has been liberated and commercialized, allowing for wider applications, more intense study, and more opportunities.
Networks, some formal, some informal are already a part of the industry. As digital technologies improve the ability to share data without sacrificing security or exposing proprietary information, partnerships will expand. These networks will become critical to keeping new ideas flowing and speeding product development. Getting new products to market is the name of the game. And, it's not just new seasonal offerings or taste combinations, but also new offerings that support a preparation style, like take-and-bake, or products for specific claims, like organic foods or non-GMO.
Defining networks and why they matter
Here are some examples of types of networks Food Processors should prioritize as they plan their digital strategies:
-Consumer input.
Collecting input from consumers on new product offerings is an important part of staying relevant. Consumers enjoy this level of engagement, evidenced by high participation levels in surveys, contests, and online opportunities to name a flavor or suggest a new offering.
-Product R&D and engineering.
Today food processing companies often collaborate with ingredient suppliers to strategically formulate recipes, seasonal variations, and organic versions, or ones that meet dietary or allergen restrictions such as gluten-free, low sugar or low sodium. Technology solutions help companies, processors and suppliers alike, collaborate in real-time, documenting conversation points and creating a conversation trail for future reference that is recorded within the ERP and associated with the product SKU.
-Demand planning.
Buyers for retail chains or restaurants often estimate demand based on prior history rather than predictive science. Looking back, rather than looking forward, is highly inaccurate, fraught with the tendency to underestimate niche markets and overlook changing consumer trends. Now, food processors can work with retailers, applying predictive analytics and algorithms to project more accurate outcomes. This helps everyone in the value chain makes the most from seasonal offerings, while fulling the needs of consumers.
-Supply chain execution and warehouse management.
Optimizing the supply chain has always been important in food processing to ensure prompt, fresh, safe delivery of ingredients to the food processor. Digital technology makes it possible to track and manage shipments in real-time. Sensors installed in shipping containers use GPS tracking and signals sent to satellites to track location and estimate delivery time. Changes can be made "on the fly" continually allowing companies to adjust plans as needed.
As digital disruption sweeps through the Food and Beverage industry, it will become more and more essential that companies make the most of technology available to them. Now is the chance to redefine processes and business models, using data as the foundation for sound decision-making. As you plan your digital strategy, be sure to focus on digital networks…your pipeline to growth.
Let's Connect
Contact us and we'll have a Business Development Representative contact you within 24 business hours