Delivering consistent experiences, even with employee turnover
Over the past few years, countless news stories have speculated about the impact the aging population of baby boomers will have on everything from the economy to the healthcare system. For context, the baby boomer generation includes those ages 53-71 in 2017. With the average age of retirement hovering around 62, companies across the United States are already feeling the impact of the retirement of the oldest subset of this population.1
Replacing the aging workforce, however, is more than just a numbers game. According to the Wall Street Journal, "Because older workers tend to be the most knowledgeable and the most experienced, when they retire, it hurts the productivity of everyone left behind."2 There's plenty of talk about extending the age of retirement; while this may help ease the onset of the problem, it certainly doesn't solve it. This gap in knowledge and skill between the employee with 40+ years of experience and the newbie brought in to replace them puts strain not only on internal resources, but also on the vendors, customers and other entities that depend on employees' knowledge and proficiency.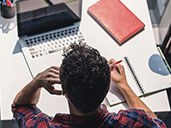 Veteran sales reps learn not only how to acquire new customers, but also how to retain them. With extensive knowledge of long-time customers' business and processes, reps can provide exceptional service and keep customers happy. Unfortunately, when long-time employees retire, customers often feel like they're starting from square one with new employees brought in as replacements. Even in the best-case scenario when an incoming employee is provided with comprehensive training and access to customer records, it can take significant time and effort to locate necessary details, especial when information is dispersed among file boxes, shared drives, and even email history.
The problem isn't an absence of information, it's an inability to easily locate it. With no central repository for account information, the sales rep is handicapped by the time and effort it takes to locate necessary data. As turnover occurs, long time customers often feel like they're starting from square one with a company that they've been working with for years. At this point, the sense of loyalty the customer may feel evaporates; the ease of working with someone they have grown to trust is no longer a factor in the relationship. It may take several years for the new rep to gain the knowledge and experience necessary to provide customers with the level of service to which they've become accustomed. Long-time customers often see this as an opportune time to move to a competitor who offers attractive incentives like lower prices and improved service. It's at this point, once customers have already moved to a competitor, that many companies realize they need a tool to help mitigate this issue. Many companies only realized they need a tool once their customers have moved to a competitor.
The entire scenario changes with an easily accessible Customer Relationship Management solution in place. A CRM system, especially one that's tied to a back-office ERP, gives a new rep access to everything their predecessor would have committed to memory and more. The time they'd spend rifling through file boxes, putting in requests for information with other departments, or looking through the shared drive can instead be spent on fostering relationships with existing customers and generating new business.
It's not just sales reps who benefit, but everyone across the business. When customers call in with questions, anyone with access to the CRM system will be able to help. The customer gets the information they need quickly and is left with the impression that the person they talk to knows what they're doing. When multiple employees can effectively service a customer, relationships and loyalty remain tied to the company as a whole rather than specific individuals.
With full visibility to customer records and history, CRM allows sales reps to anticipate customer needs rather than simply react to issues as they occur. Unfortunately for many companies, the decision to invest in a CRM is itself reactive rather than proactive, having been postponed until some combination of employee turnover, sales numbers, and customer attrition force it to the top of the priority list. Whether the consequences come in the form of lost accounts, declining sales, or waning satisfaction, the negative impact to customer relationships is incredibly costly. So wherever you are in the process of considering a CRM, think through the reality of what losing one or more of your best sales reps would mean to your bottom line.
By Liz Tucker, Solution Consultant, Infor CRM
Follow me on Twitter
@CRMLiz


Wall Street Journal, "The Economic Impact When Baby Boomers Retire"

NIH National Institute on Aging,Growing Older in America: The Health and Retirement Study

Let's Connect
Contact us and we'll have a Business Development Representative contact you within 24 business hours