Designed for progress: Managing new product introductions in IM&E
Everyone knows manufacturers of consumer goods are obsessive about new product introductions as they strive to keep up with fast-changing fads and seasonal trends. But, what about IM&E manufacturers? Are they immune to the need to continually introduce new products? Do industries with complex, mission-critical, and over-sized machinery have lower expectations about speed and frequency of new product introductions?
No. Despite the challenges, industrial machinery & equipment manufacturers face the same kind of pressures
as other manufacturers
to keep improving products, launching innovations, and managing product lifecycles. It's just harder to accomplish.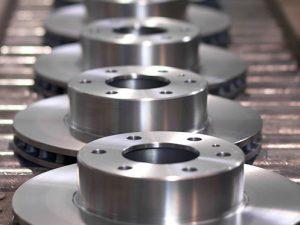 Facing three challenges head-on

Depending on the particular type of equipment they make, the IM&E manufacturer can meet a wide variety of obstacles to new product launches, some small, some monumental. For example, manufacturers of valves and pumps face fewer logistical complications than manufacturers of mining equipment, road construction equipment, and generators. Inventory complexity, high-tech components, and product lifecycle management are just some of the factors. Let's address each one with advice about ways software solutions can help the IM&E manufacturer manage innovation.


Inventory complexities
New product introductions for large pieces of equipment, like construction equipment, cause extra inventory demands, including the need for an extensive backup inventory of replacement parts for aftermarket service. When the manufacturer offers several models and numerous new product releases, this exponentially expands the inventory requirements. Not only are parts for large pieces of equipment cumbersome to store, but they also tend to involve high investment costs. Maintaining an extensive inventory of capital-intense components adds up to a huge commitment of cash.

To overcome this obstacle, IM&E manufacturers can turn to advanced ERP solutions and inventory management systems to maintain an accurate view of future needs. By using data science to project needs, the manufacturer no longer needs to overstock "just in case."
A reliable supply chain network also helps the IM&E manufacturer maintain minimum inventory. Advanced supply chain solutions provide visibility to location and status of raw resources. This visibility contributes to planning investments for just-in-time arrival strategically.
2. High-tech components

Like most products, industrial machinery is incorporating more and more high-tech components and computerized features, adding to the complexity of new product introductions. Equipment now includes smart sensors for remote monitoring of performance status. Specialized IoT technology must be included in new launches, adding to prototyping and testing challenges.
IM&E manufacturers often turn to co-manufacturing partnerships and outsourcing of high-tech components. They
can manage r
elationships with component
suppliers
through advanced supply chain management software. Online portals and collaboration tools also help maintain relationships with partners and suppliers, providing valuable visibility and enabling dialogue on product features and innovative ideas.
3. Lifecycle management

With new product introductions, IM&E manufacturers must manage the complete lifecycle of a new launch, from cradle to grave. This is no simple task when the products are complex, highly technical, and require preventive maintenance and aftermarket service.
Product Lifecycle Management solutions help streamline and track the process, giving managers best-practice protocols, and providing tools for tracking parts, replacement parts, maintenance, and as-configured service history.
By addressing these three factors and turning to software solutions to overcome the obstacles, IM&E manufacturers can make product introductions with greater ease. Innovation and new productions will continue to be important to the IM&E industry. It makes sense to invest in solutions now to turn a challenge into an opportunity for differentiation.
Learn more about
Infor solutions for IM&E
.
Let's Connect
Contact us and we'll have a Business Development Representative contact you within 24 business hours