Digital disruption in the equipment industry, part 2: leading a digital transformation
People skills are more important than digital skills
As you might expect, leadership is a key factor in whether or not a digital transformation is successful. According to digital analyst and award-winning author Brian Solis, management support and active involvement in leading the transformation is essential. Leaders need to clearly explain what the digital transformation will lead to and why it's important for the business.

Business futurist and digital transformation authority Greg Verdino believes the digital experience is SO important to the success of the business that the CEO should also be the Chief Digital Officer of the company with full ownership and accountability of the company's digital transformation. In practice, he says he typically finds that IT departments are too heavily invested in legacy technology and aren't close enough to the customer to lead a digital transformation.


"Technology departments have an opportunity to be a champion in the organization for understanding and adopting new technologies," says Verdino, "but in order to do that they need to do a much better job of understanding the business." He says technology decisions today are often being made at the department level without involvement of the CIO, particularly in the areas of sales and marketing.

Some CEOs may not have the digital literacy to know if they have people, processes and structures in place to complete a digital transformation. "A lot of organizations do need some kind of impartial third party to look at an organization, to benchmark them against competition and best practices, and to conduct a digital skills audit," says Verdino. This could be a chief digital officer or consultant.

A digital transformation team
Solis recommends establishing a digital transformation team that consists of individuals from a wide variety of departments and roles in the organization. IT and marketing are just part of the team. The team's job is to facilitate the transformation, monitor progress and keep management informed and supportive of the process.

In The Digital Business Imperative, produced by Forrester, a survey of employees found organizational inertia and functional barriers were the primary obstacles to delivering on their digital strategies. Two-thirds of employees said functional departments are too fixed in their ways, while 68 percent of business unit leaders said the functional teams in their companies act as barriers to effective coordination.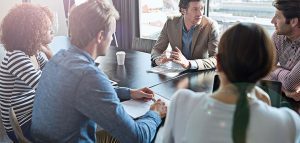 Culture and skills can hurt or hinder your digital transformation. An MIT Sloan Management Review/Deloitte 2016 Digital Business Global Executive Study identified some traits of digitally maturing organizations. It found the main characteristics of digital cultures include an expanded appetite for risk, rapid experimentation, heavy investment in talent, and recruiting and developing leaders who excel at "soft" skills.

Many construction equipment dealerships are broken down into silos of equipment sales, service, rental, etc. The challenge will be to have the courage to change from this traditional organization into a more modular one with multidisciplinary teams. Dealership management needs to consider initiatives that encourage risk taking, agility and collaboration.

For a successful digital transformation, expect to invest in your people. The MIT Sloan Management study found that 76 percent of respondents from digitally maturing companies say their companies provide resources and opportunities to develop digital acumen. This is compared to just 14 percent t of employees at early-stage companies.

According to the research, it was more important for leaders to have a transformative vision (22 percent), be forward thinkers (20 percent) and possess other collaborative leadership skills (22 percent), than it was to have technical skills (18 percent) and a change-oriented mindset (18 percent). Companies that have undergone a successful digital transformation have realized that technology alone won't help a business survive in the age of digital disruption. Equally important are how well your people adapt to change and how you harness technology to get closer to the customer.


Sources:

https://www.acquia.com/sites/default/files/library/attachment/the_digital_business_imperative.pdf

http://sloanreview.mit.edu/projects/aligning-for-digital-future/
Industry
Equipment
Equipment Dealers Rental & Service
Let's Connect
Contact us and we'll have a Business Development Representative contact you within 24 business hours