Digital supply chain networks are on the rise. Here's why.
The first post in a series designed to improve understanding of digital supply chain networks and the technologies that drive them.
As the equipment industry rallies to modernize its systems to compete in the digital age, dealers should remember to look beyond their own organization to their extended network. Digital networks provide an opportunity to enhance agility and customer alignment, optimizing resources from manufacturers, suppliers, and distributors who share the same goals–moving goods faster and more efficiently.
The big picture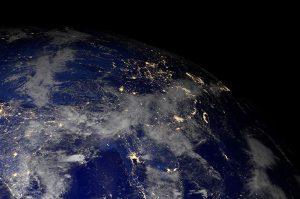 In traditional, linear supply chains the processes of planning, marketing, product development, manufacturing, selling, and servicing are distinct operations. This makes them difficult to align and slow to adapt to market changes. Today, organizations are moving toward digital supply networks. These dynamic, integrated networks break down traditional business silos and allow information to flow continuously, facilitating automation, adding value, and improving work flow. Paperwork is replaced by data that can be efficiently harnessed to aid decision-making.
In a 2017 survey
of 1,100 manufacturing and supply chain executives conducted by Deloitte in cooperation with MHI, a large material handling, logistics and supply chain association, eight in 10 respondents believe the digital supply chain will be the predominant model within the next five years. Sixteen percent of those studied recognize it as already here.
More than nine in 10 respondents believe at least one of the technologies examined in the study have the potential to be industry disruptors or become a source of competitive advantage within the next 10 years. Topping the list were robotics and automation (61%); predictive analytics (57%); Internet of Things/IoT (55%), driverless vehicles and drones (54%); and sensors and automatic identification (53%).
Here are some of the benefits we see for dealers:
You're instantly in-the-know about product and parts availability
When your service department or customer is waiting on a part or new machine, a sale could be lost, and customer satisfaction and loyalty can plummet.
Older warehousing systems are unreliable and require time-consuming manual processes to make counts and organize data. Modern, cloud-based systems offer a more efficient ways to track inventory and keep the optimal level of inventory in stock using technology such as RFID, sensor-driven replenishment, connected devices- (IIoT), and big data. The ability to locate machines and parts throughout the entire supply chain, even while in transit, is what consumers have come to expect. Your B2B partners expect no less. Real-time information is the norm.
You can capitalize on customer data
Telematic data on construction machinery provides an opportunity for dealers to become more proactive partners in machine monitoring and fleet management. Integrating telematic data into a maintenance management program allows for more efficient preventive maintenance and repairs. Accurately tracking engine performance, fuel usage and working hours can save customers money and help them more effectively manage their assets. Maintenance moves from preventive to predictive. Data analytics can also give dealers pertinent information about customer purchase patterns, and what has triggered their buying decision for a machine and for service operations in the past. This allows dealers to make the right offer to the right customer at the right time, and helps dealers predict future demand.
You can improve your speed and lower costs
The Deloitte/MHI survey confirms that demands for faster response times (55%) and lower costs (53%) are among the top 5 issues for supply chain professionals. As reported in
The Economist
, robotics may be part of the answer. Scientists at GE Global Research in Niskayuna, New York, are working on tiny robots which can inspect and repair airline engines. In the Deloitte survey, adoption of robotics was expected to grow from 37% currently to 71%.
At online retailer Alibaba's
smart warehouse, robots do 70% of the work. Robots can also take on painting and welding tasks.
Next-generation supply chains will take advantage of advanced computing power and the growing availability of data from every connected device. While these systems create cost savings, innovation and opportunities along supply chains, they also bring disruption and competitive pressures. Our series will help dealers understand the impact of digital supply networks on their business.
Sources:
https://www.mhi.org/publications/report
https://www.economist.com/news/science-and-technology/21729737-robotic-mechanics-can-go-anywhere-tiny-robots-will-inspect-and-fix-jet-engines
http://www.businessinsider.com/inside-alibaba-smart-warehouse-robots-70-per-cent-work-technology-logistics-2017-9
Industry
Equipment Dealers Rental & Service
Let's Connect
Contact us and we'll have a Business Development Representative contact you within 24 business hours