Digital transformation for distributors: 7 ways to get started
Part one in a series on Digital Transformation for Distributors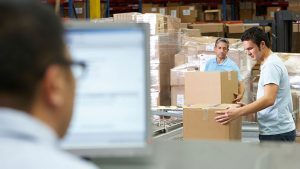 In this increasingly competitive environment, it's more important than ever for wholesale distributors to evolve and adapt—lest they get left behind. It's no longer enough to just understand your customers' specific needs. You need to have the flexibility to adjust your business practices to meet those needs. And it's not about offering the lowest prices. Instead, it's about finding ways to differentiate your business in order to build customer loyalty and continue to grow. Combine this with finding ways to achieve global reach and streamlining your business practices to increase your margins, and you have the keys to survival and growth.
To meet these challenges, wholesale distributors need to take advantage of opportunities for digital transformation. Digital transformation can help jump start growth and put distributors on the path to creating deeper, more service-oriented relationships with their customers.
In this blog post, we'll explore seven ways distributors can start their digital transformation. Each of these ways offers a chance for distributors to rethink the way they do business and adopt new, disruptive technologies and approaches to staying ahead of the competition.
Start thinking differently
Digital transformation starts with a new approach to business. A report from Constellation Research says "Digital transformation begins with design thinking, a methodology that unlocks solutions to questions that have not been asked before.
Design thinking involves putting yourself into your customers' shoes. Ask yourself: If I was our customer, what services would I want that I'm not getting? What could my distributor do to make my life easier?
Then, consider what you'll need to do to meet those needs. That's likely going to entail changing up your internal business processes, improving your existing services, adding new services, and new ways for your customers to do business with you. And, it's going to entail adopting new, disruptive technologies—like Big Data, advanced analytics, omnichannel commerce, social, mobile, Internet of Things (IoT), and more.
As customer behaviors and needs change, you must have the flexibility to adjust your business practices in order to meet those changes. You need to embrace innovative technologies that help you to optimize your daily operations and hone your competitive edge. It's not just about offering the lowest prices. Now, to succeed, you need to find ways to add layers of service that differentiate your business and help build customer loyalty.
Let's look at seven ways you can start building this differentiation through digital transformation, and the technologies that will help you accomplish your goal.
1. Embrace value-added services
"Service" now means so much more that what we typically think of good customer service. It may be eliminating an onerous task for your customers, anticipating their needs, managing a process for them from beginning to end, or streamlining your interactions with them. That service may be something you deliver directly to the customer, or in some cases by enabling your customers to serve their customers more effectively.
One way to accomplish this is to branch out from being a pure distribution model by adding additional services, like light manufacturing, kitting, assembly, toolcrib management, rental, or aftermarket services.
Think about partnering with your best customers, so you can anticipate their needs. Perhaps you could replenish the inventory in your customer's warehouse without them even having to place an order. That's the idea behind distributor-managed inventory, a practice that forward-thinking distributors are using to differentiate themselves and forge closer bonds with their most valuable customers.
Functioning more like an ever-present, intelligent partner, you can manage and replace materials in your customer's toolcrib, industrial vending machines, repair supplies, and operations inventory.
You can manage replenishment behind the scenes, so your customer, always has what they need, when they need it—without having to place an order.
Constellation Research suggests that bundling additional services can drive scalable growth and healthy margins. To meet this increasing customer demand for more comprehensive services, you'll need to add technologies like artificial intelligence, Big Data, advanced analytics, cloud, mobile, and Internet of Things.
2. Improve the customer experience
According to Constellation Research, "Organizations are moving from products to services, services to experiences, experiences to insights, insights to brand promises." Distributors need to make sure they're following that same progression.
It's becoming increasingly important that you match customer intelligence with your own unique market differentiators. That has to start with building a positive customer experience—from beginning to end. It comes right back to understanding what your customers want (and need) and how they prefer to interact with you.
Chances are, they're accustomed to omnichannel commerce opportunities, which allow them to do business anytime, from anywhere. You need to give them the tools to do business the way they prefer, whether that means through an Internet portal, via text, from their mobile phones, in person, or on the phone.
You'll want to look for a customer experience suite that helps you integrate customer data across your enterprise, so you can accelerate customer engagement and drive profitability. Key applications here include customer relationship management (CRM), configure price quote (CPQ), contract lifecycle management (CLM), and eCommerce.
3. Fine tune supply and demand forecasting
Inventory is your biggest asset, and managing it effectively is the key to increasing profitability, as well as creating happy customers. Start by streamlining your inventory management processes to reduce costs associated with freight, transactions, and errors. According to inventory management thought leader Grant Howard, a process known as advanced inventory management (AIM) can help here. AIM uses data-driven technology to provide more comprehensive inventory management that drives fill rates, turns, and better profits, with less work.
Constellation Research believes that in the not-too-distant future, 60% of mission-critical data will reside outside of existing systems and be accessed, not owned. To effectively utilize that data, you'll need sophisticated analytics, Big Data, artificial intelligence, cloud, IoT, and mobile technology, in addition to sophisticated tools for purchasing demand, and inventory management.
Let's Connect
Contact us and we'll have a Business Development Representative contact you within 24 business hours