Digital transformation for distributors; steps for getting started
This is part two in the series. See yesterday's post for steps 1-3 in getting started on a digital journey
4. Explore onshoring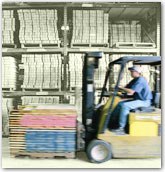 An increasing number of manufacturers are looking to bring more of their operations back to the US, a trend known as onshoring. This creates a huge opportunity for distributors to smooth the transition for their manufacturing partners.
For many distributors, this will mean providing space, equipment, and trained talent for returning manufacturers. In addition, onshoring allows distributors to respond more quickly to their customers' demands, make more accurate forecasts, maintain more accurate stock levels, and decrease transit times—all of which can help increase customer satisfaction.
Distributors who have invested in a modern, integrated ERP system with advanced analytics capabilities, as well as sophisticated supply, demand, and inventory tools, will be best positioned to take advantage of this opportunity. Constellation Research also believes that that additive manufacturing (such as 3D printing), artificial intelligence, automation and robotics, Big Data, blockchain, cloud, IoT, and mobile will play a key role in making onshoring feasible and profitable.
5. Maximize equipment value
Sometimes, transforming your business is more about saving money than making it. That's where maximizing the value of your capital equipment comes in. If you haven't already adopted a rigorous preventive maintenance program, now's the time to start. You'll also want to take a look at your field service operations in an effort to streamline maintenance activities. When you can predict equipment reliability problems, you can prevent downtime from happening. You'll also be able to reduce inventory and purchasing costs and collect on warranty-related claims. With preventive maintenance and strategic asset planning, you can better manage equipment to meet your corporate performance goals.
The technologies you'll want to watch here are enterprise asset management solutions that integrate with your ERP system, artificial intelligence, Big Data, cloud, IoT, mobile, and artificial intelligence.
6. Streamline the collections process
To transform your finance process, start by increasing cash flow. Sure, it seems obvious, but it can be tougher to implement than you'd expect. Do a statistical analysis of customer segments and non-standard processes. Analysis often shows that non-standardized collections, dispute management, and accounts receivable terms can lead to cash being stuck in limbo. Constellation Research suggests that you focus on reducing days sales outstanding (DSO), improving credit management, reducing write-offs in dispute management, and shortening billing cycles to increase cash flow.
Choose integrated financial management tools that seamlessly connect your front and back office to help ensure you have clear visibility into your profitability and growth. Other game-changing technologies include Big Data, advanced analytics, cloud, and mobile.
7. Go for anytime, anywhere business
Your workers and your customers are always on the move. Make it easy for them to do business from wherever they're located, whenever the need arises. Whether it's a sales rep who needs to update invoices in real time, a customer who wants to track an order, or a procurement specialist who needs to modify a PO on the fly, integrating mobile devices with your core software can help you work smarter (and faster) than your competitors.
Give your employees full-time access to core business applications to reduce down time and allow them to better serve customers. Give your customers self-service options, so they can find information, track orders, configure products, ask questions, and run their own businesses more efficiently.
When you mobile-enable every part of your organization, you create a true omnichannel experience that empowers your workers to better serve your customers.
In today's marketplace, technology simply can't be an afterthought. It must be a part of your company's overall strategy because it now plays a role in nearly every aspect of a business. To improve your margins and revenue opportunity, you must combine new services and offerings with capital investments in technology. Embrace digital transformation, and you're on your way to growing your distribution business.
Let's Connect
Contact us and we'll have a Business Development Representative contact you within 24 business hours