Digital transformation for the equipment industry, part 1
This is part one in a series on digital transformation for the equipment Industry.
Start thinking differently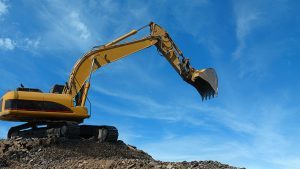 Digital transformation starts with a new approach to business. A report from Constellation Research says "Digital transformation begins with design thinking, a methodology that unlocks solutions to questions that have not been asked before."

Design thinking involves imagining business from the customers' shoes and asking, "If I was our customer, what services would I want that I'm not getting? What could make my life easier?"

Then, the next step is to plan how to meet those needs. That's likely going to entail changing internal business processes, improving existing services, adding new services, and new ways for customers to engage. And, it's going to entail adopting new, disruptive technologies—like advanced analytics, omnichannel commerce, social, mobile, Internet of Things (IoT), and more.

As customer behaviors and needs change, the equipment industry must have the flexibility to adjust business practices in order to meet those changes. Organizations need to embrace innovative technologies that help you to optimize daily operations and hone profit margins. It's not just about offering the lowest prices. Now, to succeed, there must be layers of service that differentiate the business and help build customer loyalty.

Here are seven ways to start building this differentiation through digital transformation, and the technologies that will help make these goals a reality.

1. Embrace value-added services
"Service" now means so much more that what we typically think of good customer service. It may be eliminating an onerous task for your customers, anticipating their needs, managing a process for them from beginning to end, or streamlining your interactions with them. That service may be something you deliver directly to the customer, or in some cases, something you do to make engagement with the customer more convenient or more valuable. Customers who rely on complex, high value pieces of equipment are serious about details, like safety, reliability, service, and logistics. As experts, the equipment supplier or service branch can play the role of consultant, providing valuable guidance and insight into the effective operation of the equipment.

Constellation Research suggests that bundling additional services can drive scalable growth and healthy margins. One way to accomplish this is to evolve from traditional business models which may have focused on a narrow aspect of the relationship, such as strictly rental of machinery. Today, there are so many more services and offerings which can be packaged and sold or bundled as extra value with contracts.

Many of these offerings are made possible by technology. Data collected and compiled can be leveraged to predict needs as well as forecast trends or anticipate maintenance needs. Data can be used for benchmark reports, advice on optimal operating procedures, and predictions about maintenance and service best practices.

Software solutions will help manage processes and streamline activities to support customers. Extended warranties and service contracts are value-added services. Online portals can also be used to reserve equipment, make service requests, track agreement status, check parts availability, and track service. With modernized systems these added offerings can be relatively simple to provide, yet yield high returns in customer loyalty.

An equipment company, whether involved in sales, rental, service or all three, should consider partnering with key customers, discussing their core and long term needs, exploring how best to play a part in mutual growth. Collaboration will go far in building loyalty and may uncover new revenue streams and new ways to improve customer engagement.

2. Improve the customer experience
According to Constellation Research, "Organizations are moving from products to services, services to experiences, experiences to insights, insights to brand promises." Equipment companies need to make sure they're following that same progression.

It's becoming increasingly important to build a distinct brand and stand out in your customer's recognition. In today's global economy, customers have many choices. Even a farm equipment customer in a remote area has several options about where and how to invest hard earned cash. The single local dealer with a guaranteed customer base is a concept that is long gone. As the logistics and supply chain industries continue to evolve, old notions are being replaced by modern expectations for global commerce and service.

Understanding what customers want (and need) and how they prefer to interact is key. Chances are customers are accustomed to omnichannel commerce opportunities, which allow them to do business anytime, from anywhere, whether a construction site, a farm field or engineering office. The equipment company needs to provide tools to do business the way they prefer, whether that means through an Internet portal, via text, from a mobile phone or in person. Customers may also prefer to let their machines do the talking as they turn to sensor-based technology to convey data about equipment status.

Modern technology supports this flexibility. Customer experience suites, ecommerce, contract management solutions, and tools for online portals are just some of the ways modern solutions can transform the customer experience into a point of differentiation

3. Fine tune supply and demand forecasting
In the equipment industry, inventory represents a sizable investment. Large, heavy equipment ties up capital and valuable space. Keeping an inventory of just-in-case replacement parts is also costly. Effectively managing inventory levels is one of the ways equipment dealers and rental companies can optimize cash flow—without risking customer satisfaction. Accurately understanding customer needs, predicting seasonal demand, and projecting maintenance and repair needs will help procurement managers have the necessary safety stock, without over-spending or being caught with stock-outs when a key customer calls with an emergency service request or sensor data indicates an operational problem in the field.

Connectivity with the extended supply chain also helps control spending. The ability to track suppliers and parts availability helps managers to feel confident about just-in-time strategies. They can fine-tune inventory levels, reducing redundancies, excessive inventory of parts which run the risk of becoming obsolete quickly, and make strategic decisions about inventory of slow moving parts.

Advanced analytics with predictive science capabilities make this level of forecasting possible. Modern ERP solutions with easy-to-use reporting and contextual business intelligence can be applied to inventory, sales projections, service trends, and resource requirements, including labor.

Equipment companies which have invested in modern, integrated ERP system with advanced analytics capabilities, as well as sophisticated supply, demand, and inventory tools, will be best positioned to take advantage of these opportunities.

Industry
Equipment
Equipment Dealers Rental & Service
Let's Connect
Contact us and we'll have a Business Development Representative contact you within 24 business hours