Digital transformation in the equipment industry, part 2
This is the conclusion of a two-part series on digital transformation in the equipment industry. Read yesterday's post for steps 1-3 in getting started.
4. Leverage sensors to protect equipment value
The equipment industry was one of the first to use sensor technology to track and monitor the location and condition of equipment assets. Telemetry, used to receive machine-to-machine (M2M) signals, has been vital in protecting heavy equipment and machinery from construction site theft, improper operating procedures, safety breaches, and signs of maintenance requirements.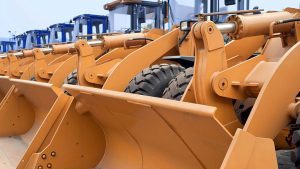 The equipment industry pioneered such M2M applications as "Power by the Hour" which allowed customers to pay only for the time the equipment was actually in-use vs on-site. Today, evolving sensor technology means equipment companies can further leverage technology and apply it to more situations, including new revenue streams. Smart sensors are now lower-cost and offer greater opportunities to track conditions which can predict impending part failure or safety violations. Data can be collected on individual operators, worksite conditions, emissions, energy consumption, EPA compliance, load weights, and GPS locations. Data can be collected, aggregated, and analyzed for the customer, providing a valuable service. Or, the equipment rental company can use the data to project the need for preventive maintenance in order to protect the lifespan of the equipment and make well informed decisions about repair or replacement of aging inventory.

Software solutions will be able to help track service history, project and schedule future maintenance needs, manage service agreements and extended warranties. Advanced business intelligence tools will help take the vast amount of sensor-generated data and turn the data points into actionable insights.

5. Optimize the marketing and sales processes
Marketing and sales are a critical for all equipment-centric companies. The company, though, that is still using old-school marketing tactics risks missing opportunities and losing market share to upstart, aggressive competition. Transitioning to a digital marketing approach is an important part of the overall modernization strategy.

Digital marketing is marketing elevated to a science, using modern technologies and digital tactics for aligning with prospects. Modern analytics, and Customer Relationship Management (CRM) solutions help dealers and rental companies understand the customer profile, target buyers when and where they are most likely to make a decision, and track prospects through their sales cycles.

Heavy equipment acquisition is a complex, carefully considered decision. Marketing tactics used in business-to-consumer marketing (B2C) won't begin to address the complex sales cycle of heavy machinery and equipment. Tracking the extensive marketing efforts throughout the decision-cycle, therefore, is essential in order to maximize investment of marketing dollars—and efforts. Helter-skelter campaigns will only waste time and can potentially annoy prospects who don't want to be bothered with a sales pitch that is not tailored to their needs. Prospects expect the equipment dealer to understand their pains, needs, and what products and services will solve the problem. Generic messages and hype won't work for today's savvy buyer.

Providing customized proposals and quotes, sometimes with detailed design specs and CAD drawings, is typically part of the sales cycle. What was once a time consuming process can now be streamlined and highly automated with Configure Price Quote solutions which use rules-based parameters to configure variations of the product design and determine pricing.

Once the prospect becomes a customer the challenges don't end. Modern CRM solutions help the dealer identify relevant upsell, cross-sell, and service opportunities.

6. Support field technicians with advanced tools
The equipment industry can benefit from new technologies which make the service technician in the field more productive and well-informed, helping him to resolve maintenance and service orders in less time with fewer trips back to the service center for parts or tools. With a current shortage of skilled technicians, enhancing the ability of each technician is more and more important. Some modern digital applications in field service include:

Drones to inspect assets in remote or dangerous locations

Virtual reality environments to train new technicians or introduce prototype products

Live video communication between field technicians and product design engineers from the field

Voice activated access to the ERP for service history, parts inventory, and warranty status so the field technician can keep his eyes and hands on the task.

Machine learning and extended knowledge base which can track, learn, and remember solutions. If the same problem arises in the future, the system can draw on past experiences and suggest a solution, even projecting estimated time and cost.
7. Go for anytime, anywhere business
In the equipment industry, mobile solutions, online portals, and remote connectivity are all essential. As field technicians service equipment in the field they need access to data in order to make well informed decisions and increase first-call resolution rates. Checking service history, parts inventory status, and warranty and service contract agreements will help the technicians make timely repairs and provide sound advice to the customer.

Connectivity also helps workers who are always on the move, from managers to sales people. Companies can make it easy for personnel to do business from wherever they're located, whenever the need arises. Whether it's a sales rep who needs to update invoices in real time, a customer who wants to track an order, or a procurement specialist who needs to modify a purchase order on the fly, integrating mobile devices with core software helps the organization work more efficiently.

Concluding thoughts; why the urgency
In today's marketplace, technology simply can't be an afterthought. It must be a part of the company's overall strategy. Digital transformation is impacting businesses of every kind, size, and location. The equipment industry is no exception. Because of the high-value, complexity, and mission-critical nature of equipment, modernizing operations in this industry takes on added significance. Doing nothing is high risk. Muddling along with legacy software, manual systems, and outdated tools is a direct route to obsolescence.

Equipment dealers, rental and service companies now have the opportunity to jump start growth. They can leverage modern technology in order to better align with customers, optimize the use of sensors and data, and streamline activities. End-to-end visibility throughout the organization—and to the extended value chain—provides one of the most significant opportunities. Extending this connectivity further to include the customer also helps to align with customers and build value and loyalty.

Now is the time to plan a modernization strategy which ties together all seven of the entry points listed in this paper. A comprehensive plan will ensure that the various components are compatible and contribute to the high level objectives and priorities. With system-wide modernization in place, the organization can embark on building new customer-centric revenue streams, adding service offerings, and turning data into tools for growth and customer alignment. It is a new era for the equipment industry. Companies can embrace digital tactics or be left on the sidelines as the competition rushes past.
Industry
Equipment
Equipment Dealers Rental & Service
Let's Connect
Contact us and we'll have a Business Development Representative contact you within 24 business hours