Distribution business trends for 2018, Part 1: It's (still) about the customer
2018 is already shaping up to be a fast-paced, challenging year for wholesale distribution, with trends, challenges, and opportunities evolving at a breathtaking pace.

But as business analysts talk to distributors, one overarching message is crystal clear: while some of the challenges are familiar, there's never been a time when distribution technology was more perfectly poised to drive modernization, transformation, and business success.

Over the next couple of weeks, we'll be looking at seven business trends that any distributor can use, and every distributor should use, to guide strategy for the next 12 months. Our tour begins where every aspect of distribution begins and ends—with the customer.
The age of mass personalization
A mega-trend like customer-centric marketing isn't going to disappear anytime soon: If anything, buyers who've learned to enjoy mass personalization and more direct contact from their vendors are going to expect it faster and better this year, as increasingly cloud-enabled marketing systems raise the bar on timely, effective, responsive customer contact.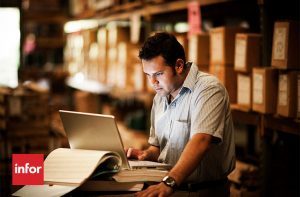 With the value of online e-commerce on track to double from $1.37 trillion in 2014 to $2.75 trillion this year—en route to a projected $4.48 trillion in 2021—understanding your customers at a mass level while interacting with them as individuals is the true business survival skill.

Time was when personalization meant addressing a contact by name, rather than opening with "Hi, there" or—worse still—"Dear Sir/Madam". Today, the ability to monitor user behavior and customize email promotions to match is no longer optional. It's just a first step in tailoring campaigns to individual customers and broader user personas, always matching your next move to the feedback embedded in a customer's activities and responses.

It's an approach that gives you and your customers the best of both worlds. You get to be more genuinely responsive, without confronting the impossible task of managing each individual interaction. They get a more finely-tuned window on the products and services they're most likely to need, when and where they need them.
From customer satisfaction to relationship equity
On a day-to-day, tactical level, everything you do should ultimately be about satisfying the customers who keep you in business. On a broader strategic level, the relationships you build add up to one of the most valuable forms of business equity.

To tap into that value, distributors need an end-to-end commitment to build a deep understanding of their customers, drill down to the products they're looking for and the forms of interaction they prefer, and deliver to that specification. It's a tough target, but achievable with the right mix of e-commerce and business intelligence tools.

And it will pay the ultimate dividend—a thriving, profitable business—in a year when customer-centricity should still be at the top of every distributor's trend list.


Part 2: Keeping up with Amazon
Part 3: Changing cultures and taking charge
Product
CloudSuite Distribution
CloudSuite Distribution Enterprise
Distribution SX.e
M3
Region
Let's Connect
Contact us and we'll have a Business Development Representative contact you within 24 business hours