Distributor and dealer optimism is good news for IM&E manufacturers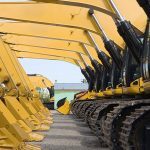 Industrial Machinery and Equipment (IM&E) manufacturers will find positive trends in data derived from a survey of equipment distributors and dealers conducted by by Wells Fargo.
Many contractors and equipment distributors anticipate increases for both residential and nonresidential construction activity for the latter half of 2018 – as well as greater profitability, according to the survey.
The survey also indicates that te construction industry executives are more optimistic about nonresidential construction activity than they have been since 2000.
"This is the highest optimism we have recorded in the last 20 years, so that in and of itself is really good news," says John Crum, senior vice president and national sales manager, Construction Group, Wells Fargo Equipment Finance.
"All signs are pointing up" for the rest of this year, Crum is quoted as saying in an Equipment World interview.
The Construction Industry Forecast calls this "a year of continued optimism," based on answers from 312 executives. But the bullish outlook during this economic expansion is tempered by a lack of workers available, the respondents point out.
"Everybody's optimistic. And almost everybody agrees labor is the No. 1 concern," Crum says.
The survey indicates strong confidence among business owners in the industry and market outlook, with credit readily available. Heavy equipment sales are expected to dramatically increase.
"Most people are expecting more profitability in 2018, and distributors are optimistic about sales," Crum says.
Some data from the survey:
-61% of respondents expect an increase in profitability.
-Rental business executives say they plan to increase the size of the rental fleets.
-76% of distributors said that they expect their sales of new equipment to increase
-78% say their sales of used equipment will increase.
-On the contractor side, 37 percent indicate that they will buy more new equipment, while 27 percent indicate they will buy more used.
-the Optimism Quotient is at 133 – a 10-point increase over 2017. An OQ score greater than 100 indicates strong optimism for increased local, non-residential construction activity versus the prior calendar year.
"It's exciting to see this level of optimism. It reflects what we have heard from our customers about the strength of the market," Crum says. "Many industry participants feel that this could be one of their best years ever."
Read more.
Let's Connect
Contact us and we'll have a Business Development Representative contact you within 24 business hours