Distributors: Do you feel the urgency?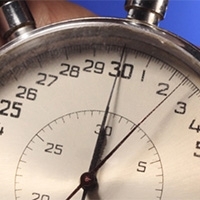 Digital transformation is hitting manufacturing, supply chain channels and distribution, transforming the industries. Tech savvy distributors with a drive for modernization are setting new benchmarks and redefining best practices.
And yet, for many distributors, full-scale adoption of digitalization tactics is stalled. James Toomey, Vice President Hook and Loop Digital Transformation, has seen this pause phenomenon several times. He calls it the "hesitations before the leap" and compares it to prolonged incubation.
"It's natural and understandable for a distributor to want to fully evaluate their options on an issue as important as digitalization," says Toomey. "Redefining processes isn't something you want to blindly rush into, but it's time to take action and pick an idea to pursue."
Often, the abundance of ideas and endless intriguing possibilities are what cause the decision paralysis, Toomey says. Distributors may be looking at several possible ideas, from tactics to get closer to the customer to new value-added services, and strategies to monetize data collected from sensors.
They are all good ideas, each offering benefits, each quite feasible with modern technology. It may be impossible to predict which idea is the "golden goose" based on benchmark studies or best practice models. It is too early to have prescribed paths that distributors can simply copy and paste into their own plans.
"Companies often promote bottom-up thinking where ideas bubble up from the front line, the people who are facing problems and talking to customers. When it comes to the digital strategy, ideas need to come from the top. And, in many case, they need be based on a vision. A gut instinct certainly plays a part. The idea must have passion behind it," Toomey adds.
He also has some tips for distributors who are struggling to move past the incubation stage:
Freeing the CIO and IT director from routine rudimentary tasks,
like email systems and report writing, is one of the first steps to take so those professionals can be focusing on more critical, strategic concepts. Cloud deployment puts basic system maintenance, security and upgrades in the hands of the provider, lifting the load from internal teams.
Solving operational issues
is often a practical place to start. Manufacturers can apply predictive analytics to solving reoccurring issues, such as maintaining inventory levels, projecting demand, and anticipating spikes aftermarket service requirements.
Finding new value through functional integration
is another type of "low hanging fruit" which often can be implemented in early stages. Simply connecting departments that were previously isolated can often bring new value. Visibility aids decision-making and ensures the entire enterprise is operating from the same set of data points.
Applying Internet of Things technologies
is another logical early step. Sensors embedded on material handling assets on the warehouse floor, in fleet vehicles, or embedded on pallets or shipping crates can collect data about condition or location and help uncover gaps in the current systems. The data can also be used to trigger automated action or speed processes.
Establishing collaboration
between IT, marketing, and existing customers will help generate ideas about ways to tighten bonds with customers, share data from sensors, and improve the customer experience.
Applying adjacent innovation
and borrowing concepts from other markets also work to speed the process. For example, healthcare providers aiming to improve the patient experience can turn to the hospitality industry for models of service delivery which they can "lift and shift" to their own applications.
Creating differentiation
should always must be a priority as distributors face heightened global competition and complexity from worldwide supply chain channels. Any digitalization project which can improve the customer experience or create a distinct market advantage will provide valuable results.
Toomey, who leads Infor's Hook and Loop Digitalization team, is confident distributors will continue to embrace these launching points and transition into a aggressive deployment in order to not be left behind. It's time for "less talking, more doing," he says.
As the results start to pour in, one success after another, the momentum will accelerate and the pressure to adopt will intensify. Distributors should not delay getting started.
"No one wants to be the last to the party," says Toomey. That means now is the time to take action.
Learn more about Hook and Loop Digital at http://www.hookandloopdigital.com/
Let's Connect
Contact us and we'll have a Business Development Representative contact you within 24 business hours