Distributors' profitability in 2018 depends on digital strategy, strong relationships
As with any other aspect of any distribution company, the importance of offering value-added services maps back to a fundamental question: What return on investment (ROI) will it deliver back to the business?

The MDM survey, "Path to Profitable Services", looks into the value-added services distributors are offering their customers, more often than not at no cost. The takeaway is that it's become standard practice to give away something that might have had a price tag attached, in exchange for something intangible—like customer good will, or a more structured strategic partnership—that has far greater value.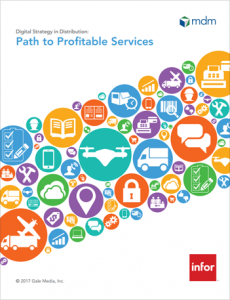 One of the key questions is how that kind of transaction fits into a distributor's wider sales and marketing strategy. And MDM is uniquely qualified to answer it.

MDM's annual industry survey is a must-have for wholesale distribution executives, providing a specialized source of "high-level in-depth resources" on industry trends. The profile of survey participants tells you everything you need to know about the weight and credibility of the results: nearly half of them are C-level executives, the rest are middle to upper management, and the survey covers most of the major distribution sectors and all sizes of business.
Bringing it back to strategy
We've talked about the important insights the survey offers on value-added services in part one and part two of this series. But every tactic needs a broader context. Which is why it's important to heed MDM's insights on distributors' overall digital strategies, their forward investment plans, and the value manufacturers attach to their distribution relationships.

Just over one-third of respondents—36.4%—said their companies had developed comprehensive digital strategies, covering a full range of software and solutions. But exactly the same proportion said they have no strategy at all, or only procure the system enhancements they absolutely need. So while industry leaders are positioned to take full advantage of a shift in business prospects and strategies, a group of more staid companies are at risk of falling behind.

E-commerce, CRM, business intelligence tools, ERP, and mobile lead the list of technology investments that respondents were most likely to see on the immediate horizon.

Manufacturers, meanwhile, said they value distributors' ability to provide more "feet on the street" for sales and service, get inventory closer to the end customer, and deliver a stronger local presence.

Manufacturing respondents listed point-of-sale information sharing, automation, real-time transaction visibility, integrated product/ordering systems, and Internet of Things capability as the tools they most value from their distribution business partners. They cited knowledgeable salespeople, excellent customer service, product knowledge, and relationship as the services that differentiate the best distributors from the competition. Each of those services and professional qualities is enabled by a forward-looking digital strategy, supported by a cloud-based ERP.

The path to profitability

MDM concludes that there's a path to profitability in a tough distribution marketplace, but it means mobilizing the right technology and talent.

"This perilous path begins with a single step—understanding the value you bring to your channel relationships," the survey report concludes. "If you can't identify what sets you apart from your competition, how can you prove your value to your suppliers or your customers? The path should also include conversations with your channel partners—your customers and suppliers—about their expectations for the services you provide."


Download a copy of the 2017 MDM survey, Path to Profitable Services, or view the on-demand webinar.
Product
CloudSuite Distribution
CloudSuite Distribution Enterprise
Distribution SX.e
M3
Region
Let's Connect
Contact us and we'll have a Business Development Representative contact you within 24 business hours