Don´t miss your chance to get the answers to your questions at Infor M3 TechEd
Save your seat now with our early bird discount!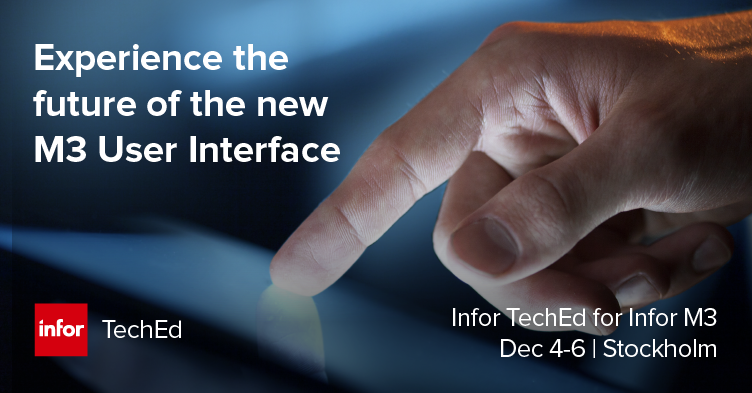 Sven de Langhe presents the latest Infor M3 user interface updates and user experience upgrades and much more at Infor TechEd for Infor M3 in Stockholm, December 4-6.

Early-bird pricing ends Oct 5—register today for Infor TechEd for Infor M3, taking place December 4-6 in Stockholm, Sweden.


Topics for 2018


You get a choice of deep-dive and hands-on sessions. This year's topics include:

Personalizing the Infor M3 user experience in H5

Discovering Infor Coleman AI and Search

Leveraging Infor OS with multi-tenant cloud

Setting up Infor Ming.le Homepages for Infor M3

ION Workflows and collaboration with Infor M3

Prepare and deliver an upgrade to the multi-tenant cloud

Manufacturing and purchase order management


What is TechEd?


Infor TechEd is a 2.5-day education conference that provides advanced technical training on Infor M3, much of which you can't find anywhere else. It also provides huge access to many of our top product experts, including scheduled one-on-one chats. At the conference, you learn best practices that allow you to:

Simplify your work

Avoid wasted effort

Provide great solutions to your users

Become an indispensable resource at your site

Register now for Infor TechEd for Infor M3
Let's Connect
Contact us and we'll have a Business Development Representative contact you within 24 business hours