Don't let the squeaky wheel on a hospital cart steer you wrong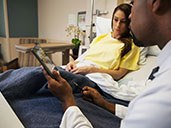 Steve Beard, Senior EAM Architect, Infor
Anyone who has ever had a hospital stay knows that a peaceful, quiet and relaxing environment is the key to healing. Conversely, anyone who wasn't allowed that calming atmosphere, for whatever reason, knows that negative experience lives on long after discharge.
Aside from creating negative word of mouth among people and potential patients, that bad experience also shows up in the patient satisfaction survey upon which part of value-based reimbursement relies.
Infor's white paper,
No More Squeaky Wheels: Using Enterprise Asset Management to Boost Patient Satisfaction,
looks at one of the most common—and controllable—ways to enhance the patient experience (and subsequent reimbursement). Eliminating noises at night, such as the high-pitched noise coming from the wheels on the medication cart, is one example of a quick path to better patient satisfaction.
And while that sounds simple, that medication cart is one of only thousands of pieces of physical equipment used for patient care and under management by most hospitals. And some of that is highly technical. Keeping it all in top condition and readily available in a dynamic hospital environment is vital, then, to maximizing Hospital Consumer Assessment of Healthcare Providers and Systems (HCAHPS) scores, as well as complying with Joint Commission standards on medical device collaboration.
Top challenges for healthcare IT professionals
A recent survey of 1,900 healthcare IT professionals found that their top medical device challenges include:


Managing devices and systems on the IT network

Integrating data into electronic health records

Maintenance of infusion pump systems

Cybersecurity of devices/systems

Managing recalls

With 10,000 medical devices available to hospitals, according to the World Health Organization, these challenges are bound to grow. Infor Enterprise Asset Management (EAM) creates a single-source system that manages all equipment along its lifecycle and creates a comprehensive, metrics-based hospital-wide system that:


Optimizes equipment and inventory to better analyze equipment needs and make smarter purchases and maintenance decisions.

Quickly locates equipment in real time.

Proactively manages maintenance by providing triggers when performance falls below defined thresholds.

Proactively controls the environment beyond just noise, but other environmental factors such as lighting.

Better leverages staff resources by matching maintenance staff skills to needs, and scheduling the right staff for the right shifts.

Plans improvements to new facilities by shedding light on patient experience areas that can be used during construction and renovation.

Hospitals know value-based reimbursements are on the rise, and patient experience is based on an extensive array of factors—including everything from a loud medical cart at midnight to room temperature. Value-based payment models—and optimum patient care—demand a more proactive approach to asset management.
Download the white paper.
Product
CloudSuite Distribution Enterprise
CloudSuite Facilities Management
Infor EAM
Region
Let's Connect
Contact us and we'll have a Business Development Representative contact you within 24 business hours