Drones: A safer way to put eyeballs on buildings and facilities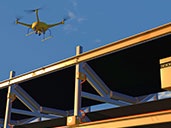 When you're a maintenance or engineering manager, much of your team's work is dirty, challenging, and at times, downright dangerous. You have to inspect the equipment and facilities you're tasked with keeping in peak condition, even if those assets are hard to access, difficult to assess, or potentially unsafe for humans to enter.
As organizations work to optimize operations and balance requirements within limited budgetary resources, they still tend to lack full visibility into the assets and infrastructure under their control. Not having a good handle on current condition makes it difficult to manage those assets throughout their useful lifecycle.
That's where drones can help. Unmanned aircraft systems (UAS), otherwise known as drones, can help you maintain your assets and facilities, while also reducing costs and safety risks.
Consider both tethered drones (those that are connected to the ground by a tether that provides power and communications) and untethered drones (those that can fly precise routes over longer distances) for different types of inspections. A Skylogic Research report concluded that "In the inspection world, unmanned aircraft have a distinct cost and safety advantage over using people on ropes, ladders, scaffolding, and bucket trucks."
What exactly can drones do?
Drones can perform functions like perch-and-stare, video capture, and laser scanning, which makes them an ideal replacement for many of the dull, dirty, and dangerous inspection and surveillance tasks currently handled by humans. They offer flexible flying capabilities, as well as the ability to capture high-quality images and footage so they can be used to inspect buildings, oil rigs, power stations, railways, and other linear and nonlinear assets.
By using a drone instead of performing a manual inspection, you avoid having to shut down equipment, don't put your employees in harm's way, and can receive photos and sensor data in real time. All of this helps you gain greater operational visibility to inform your decision-making, better manage your energy consumption, and become more proactive in your operations and maintenance.
Of course, to achieve these operational improvements, you'll need a robust enterprise asset management system that can take all the images and data your drone generates, analyze it, and present it in a way that makes it easy for you to use.
When you pair drones with the right EAM software, you get a powerful tool for transforming your maintenance and operations management while reducing cost and risk.
For more on this topic, read
"Eyes on Buildings: Drones Offer Inspection, Maintenance Benefits"
in
Facilities.net
magazine.
Product
CloudSuite Distribution Enterprise
CloudSuite Facilities Management
Infor EAM
Region
Let's Connect
Contact us and we'll have a Business Development Representative contact you within 24 business hours