DSW talks redefining retail and getting out of "software jail"
"In my 20 years in retail and technology, I've never worked in more exciting, dynamic, and unbelievably scary time."
That's how Ashlee Aldridge, senior vice president and CIO at
Designer Shoe Warehouse
, teed up her remarks to the audience at
Inforum 2017
Wednesday morning.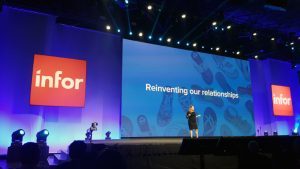 It's easy to forget that brick-and-mortar stores still account for more than 85% of retail sales. Yet with department store chains shuttering hundreds of stores across the U.S. this year and some forecasters predicting the death of up to one-third of the nation's shopping malls, the market is unquestionably in tumult.
'We believe retail is not dead, it's just being redefined," Aldridge said. DSW has a bustling e-commerce business, but remains committed to physical stores.
Part of that reinvention is understanding that technology underlies everything retailers do, from the way they stock inventory to the design of showroom floors. Its job is no longer to build the systems of record that handle transactions and bookkeeping, but to become intrinsically involved in customer experience.
That means the relationships between retailers and their technology providers have to change. Aldridge, who said she's been through more than 35 large-scale IT implementations, remembered when "it used to be that we'd buy technology, and the vendor would implement it. The customer and the vendor had no dependence on each other. In fact, the relationship was sometimes hostile."
After the implementation period was done, the customer would typically have a long list of bugs and enhancement needs that weren't evident earlier. "These were our problems, but it was their software," she said. "The gap was my problem. I call this software jail."
Old relationship models don't work today. Customers and their technology suppliers "need an interdependent relationship," the CIO said.
There are three elements to such a partnership, which looks not unlike a marriage:


Both parties need to commit to each other with a shared success model.

They must give each other permission to fight, because the transparency that results makes both parties more resilient.

They must think of the relationship as a commitment but not a sentence. Accept that customers and partners can grow together, but sometimes they need to split up. Either way, have empathy for each other's needs.

One element of the in-store experience that technology will never be able to duplicate is what Aldridge called the "art of retail." Sure, there's plenty of science in forecasting what customers will want to buy and in what quantities and when, but many customers come to the store for the sounds, the smells, and the people—in other words, the brand experience.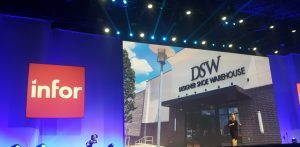 To understand those connections better, Aldridge recent spent three days in a Seattle warehouse unloading pallets, stocking shelves, and chasing down customer requests. "Within the aisles of shoes is where one-on-one connections come to life," she said.
Like the grandmother who was searching for shoes that her 7-year-old grandson with Down's Syndrome could put on himself. The woman told Aldridge that her goal wasn't just to find a practical solution—there are plenty of Velcro clasps out there—but one that would make her grandson look down at his feet and smile.
After sorting through stacks of shoes, the trio narrowed the options to two. The first pair elicited no reaction from the boy, but when he put on the second pair, his face broke into a grin. As the child danced around the store, tears streamed down the grandmother's face.
"I thought 'that is the art of retail,'" Aldridge said. "No computer could replace the celebration we had in that moment."
Which shows that even in a time of momentous change, some things don't change much at all.
Let's Connect
Contact us and we'll have a Business Development Representative contact you within 24 business hours