Dude, where's my bulletin board?
Guest post by Jessica Dunyon, Workforce Management, Manufacturing, Americas, @jessicadunyon
When I was completing my undergraduate degree, I worked for a process manufacturer in
Salt Lake City, Utah
. The job included managing the swing shift from 2 p.m. until midnight. As you can imagine, these hours presented unique challenges regarding adequate staffing levels and scheduling for proper skills and experience. For example, at least 35% of my reports fell under their 90-day probation period at any given time. Despite these issues, however, I kept the job after graduation, and for a total of ten years. This experience in operations brought about an empathy for Infor's manufacturing customers – the people that I work with each day. The same challenges I faced then are still relevant.
Before there was Zuckerberg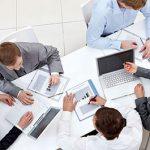 A contributing factor to the skills, experience and scheduling problem was the timeliness in which we communicated production matters to employees. It was a terribly inefficient process. All the lines in the plant had a centralized gathering area with a desk and a bulletin board. This area also included the proverbial water cooler. This is where team members socialized and viewed daily assignments, line rotations, and their respective schedules. Employees signed up for extra shifts, requested time off, and swapped start times with teammates as well. This all seemed reasonable enough but in this same location we also posted notices for potlucks, weddings, births, funerals, and detail about company picnics. Polaroid photos of employees celebrating job anniversaries and safety awards hung on the board too. The bulletin board was the Facebook feed for the production line before
Mark Zuckerberg
was even born.
Mixing personal and professional information on the "board" wasn't all bad but the job data that we were sharing was always outdated by at least 24 hours, and largely manual to produce thus prone to error. This included printouts from dot matrix printers – remember those? – with production output statistics by shift that included labor budget performance and yield variance. Charts with key performance indicators, safety goals, and pertinent training opportunities based on this data, was posted as well. Employees were eager to see how many cases were transported to distribution and how their performance compared to other shifts. From a cultural perspective, each shift was competitive with the others and took pride in being "Number One" for output, yields, and performing on budget (or better). But again, it was old data.
Here's where these challenges become even more problematic. It starts with the employee again. The fact that they are living, breathing, and ever-changing creatures, means that my product schedule needed to accommodate their availability. For example, approvals for time-off and swaps required review of production events, turnarounds, and seniority. This could only be done by me, or by a designated shift scheduler. If I manually changed one stop and start times in a green screen kiosk, I changed a thousand of them. Furthermore, I physically reviewed and signed nearly 60 time cards every Friday night for weekly payroll to run. These tasks, while simple to complete, required time and effort that would have been better spent executing strategy, or refining certain production steps – not just getting them done.
Give it to me straight, straight digital
Millennials
are the largest generation in the workforce, comprising more than one third of the American workforce. That's the equivalent of 54 million workers between the ages of 18 and 34. And, like no other generation before it, this group of employees are extremely adept with their phones – it's both how they work and how they live. Nearly 98% of all millennials own a
smartphone
, and with these devices, effectively blurring the lines of work-life activities. This is how they want it. So, it's incumbent on the modern manufacturer to adopt new ways of doing business and with it, add value to the millennial not detract from how they prefer to interact with their employers or each other. Millennials are masters of this format, and if leveraged properly can work much better in team environments than any preceding generation. Keeping in mind that life before the internet does not exist for these workers. Information must not only be accessible and current but it also needs to be available on-demand from any device.
There's one more relevant mention to creating a modern manufacturing company and a millennial-friendly culture. Yes, more than just management related efficiency, and the accessibility of relevant information. Today's employee desires more freedom around their schedule. This includes flexible working hours and getting paid premiums for undesirable and/or overtime shifts. Employees also expect notifications for work-related events such as when the schedule is posted, requested time-off by their peers, shift swap approvals, and even when extra shifts are available. If work-life is in fact a blurred line, there must be a mechanism for open communication about when and how work gets done. And, this format must perpetuate common and familiar use cases to best engage all employees in the process.
Ditch the thumbtacks
Infor Workforce Xi
digitally remodels work stations by relocating the bulletin board, along with water cooler type chatter, into the cloud. Furthermore, it strategically places relevant information directly into the hands of the employees without a middleman – the way millennials prefer it. Paper-based, time intensive processes are replaced and streamlined with a few lines of code, and with business logic that is specific to organizational rules and regulations, including union constraints. Workforce Xi and its' digital format provides operation leaders in manufacturing, just like my old job, with actionable key labor metrics that add much more value than basic time and attendance tracking required for payroll.
It's one of the seven deadly sins, but I am guilty of Envy: I am envious of the
Infor Workforce Management
platform used by manufacturers all over the globe. If only I had had access to an integrated Workforce Management when I was an operations leader. I wouldn't have had to leave the line to request help from employees to work extra shifts, aggregate key data sources, or spend countless hours signing timesheets. There would have been tools to balance vacation requests with qualified machine operators, for example, or to ensure necessary coverage based on the current workload. It's quite amazing how quickly technology has advanced; almost as much as the expectations of the employees.
When I speak with clients, I reflect literally and figuratively on my time spent walking in their shoes. I wonder how many daily steps my Apple watch would tally on trips up-and-down the line during my shift. I recall hours spent on manual tasks and consider how they are easily automated with the evolving technology of today. By my calculation, I'd gain 72 minutes of personal time every single day. I'd be caught up on
Game of Thrones
(please, no spoilers!), my podcast queue would be empty, I'd FaceTime my mom more often, and dinner – using a recipe I pinned from
Pinterest
– would be in the oven. Finally, I'd smash an extra hug and kiss for my kids into the day. But, since it's their generation's preferred method of communication, my love may be sent via text message using kissy-face emoji.
There's a better way for manufacturers to communicate with and engage today's workforce, and it's not the bulletin board.
Let's Connect
Contact us and we'll have a Business Development Representative contact you within 24 business hours