Education HCM Tips 'The Global HR Fit Analysis and the Qualifications Fit Meter'
Graphics and color can provide information in a format that allows a user to quickly assess the data behind the image. Fit analysis involves evaluating a person, their qualifications and the qualifications of their position. We will take a look at the set up and configuration options available for the Qualification Fit indicator on the Employee At A Glance page that is also used when performing Fit Analysis.
As an Infor Global HR user, you may have seen the Qualifications Fit progress bar on the Resource Profile's At A Glance tab. Supporting details for the Qualifications Fit can be found on the Resource Profile's Fit Analysis tab. The progress bar, labeled "Qualifications Fit" in the screen print below, provides a visual representation of how resources qualifications align with the essential and possibly the desired requirements for the position. The percent fit value of a person in relation to the position is displayed along with a colored bar to indicate the quality of the fit.

There are several factors that are considered when calculating the percent fit value. They are configured at the Organization level, and can vary between Infor Global HR and Infor Talent Acquisition. Each client can set up whether to include competencies, skills, education, and credentials when comparing the resource to the position, as well as whether to only compare to essential only or to include desired qualifications. In addition to determining what to compare, the threshold for when the color of the bar changes from red to yellow or to green, are also configured at the Organization level.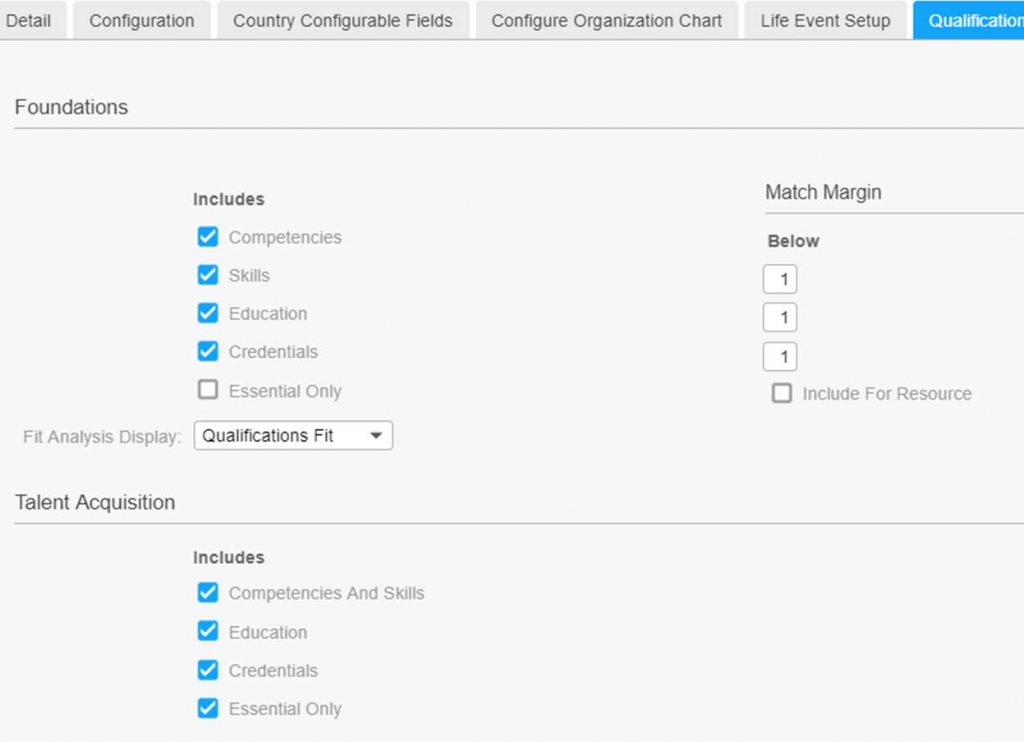 Although the configuration at the Organization level is needed for the Qualifications Fit tab, there are additional set-up considerations. Competencies, skills, education, and credentials must be created and associated with jobs and/or positions. Once the system is configured and qualifications are in place, it is easy to calculate a fit for a resource to their current position, or even model a fit for a resource to another position.
To learn more about Qualifications Fit, consider attending our
Infor Global HR class
or watch one of our many eLearnings on competencies or qualifications.

...or better yet, become an Infor HCM Global HR expert at Infor TechEd.
Filed Under
Education & Transformation Services
Let's Connect
Contact us and we'll have a Business Development Representative contact you within 24 business hours